Town President Larry Dominick and the Town of Cicero Board of Trustees are proud to provide a monthly newsletter that includes information on all of the services and programs that are available to residents.
The Town Newsletter is published in both English and Spanish and is mailed at the beginning of each month to every resident address. The Newsletter is delivered by the US Post Office and is subject to the Post Office system which during the Coronavirus Pandemic has been inconsistent and delayed.
Each newsletter includes updates on new programs, services and announcements of upcoming community events. It also includes news and features on past events.
Because of a delays in Post Office delivery, the Town is proud to additionally offer the newsletter each month in PDF format so you can read it online.
May 2022 Newsletter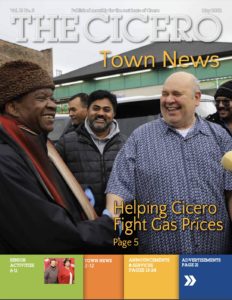 April 2022 Newsletter
March 2022 Newsletter
February 2022 Newsletter
January 2022 Newsletter
December 2021 Newsletter
November 2021 Newsletter
October 2021 Newsletter
September 2021 Newsletter
August 2021 Newsletter
July 2021 Newsletter