Project Management & Development
Craig Pesek
Town Projects Manager
4949 W. Cermak Road, 3rd Floor
CPesek@thetownofcicero.com
708-656-3600 ext 383
Rosa Raygoza
MENU – Go to:
See Below for Important Projects and documents
Zoning Code & Zoning Map Update Project
With funding and technical support from the Regional Transportation Authority (RTA), the Town of Cicero is updating its Zoning Code and Zoning Map as part of a new Unified Development Code (UDC). The UDC will build upon and advance the recommendations outlined in relevant Town planning efforts, including the 2017 Comprehensive Plan, 2014 Cicero Avenue Corridor Plan, and 2014 Cicero Connections Transit Area Implementation Plan.
A Unified Development Code (UDC) is a document in which traditional zoning and subdivision regulations are combined with other desired Town regulations such as sign requirements, design guidelines, and water management.  It serves to implement the recommendations of Cicero's recently adopted Comprehensive Plan, which is the leading local policy document setting forth Cicero's long-term vision and solutions to local economic development and zoning issues. Check out the What is a UDC page on the project website to learn more.
A separate project website is available for more information on the planning process to prepare the Town of Cicero's Unified Development Code (UDC).  Here you will be able to stay updated on project news, outreach opportunities, and draft documents. Click the "Follow" button to receive notifications of project updates into your email inbox. You may also leave feedback on the Contact page at https://cicerozoning.com/
Another way you can participate is through our on-line Virtual Zoning Workshop available at the following website CLICK THIS LINK  This website offers a fun, interactive way to record your thoughts on a range of zoning related issues using a digital map to post your thoughts on how potential zoning updates can help the Town of Cicero address current issues and achieve its vision as expressed in the recently adopted 2017 Comprehensive Plan.  The Plan promotes enhancing the quality of life of all residents by facilitating economic development opportunities, protecting and revitalizing neighborhoods, business, and manufacturing districts, while making the community more walkable and supportive of transit.
Please share this information with your family, friends, and neighbors.
Cicero's Comprehensive Plan
View the Comprehensive Plan for the Town of Cicero that was adopted on June 27, 2017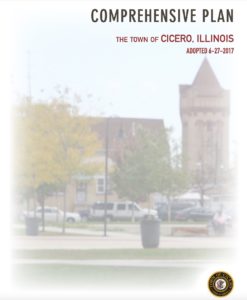 Cicero Transportation Project
View the Cicero Transportation Report
Homes for a Changing Region Action Plan
Read the Homes for a Changing Region Action Plan