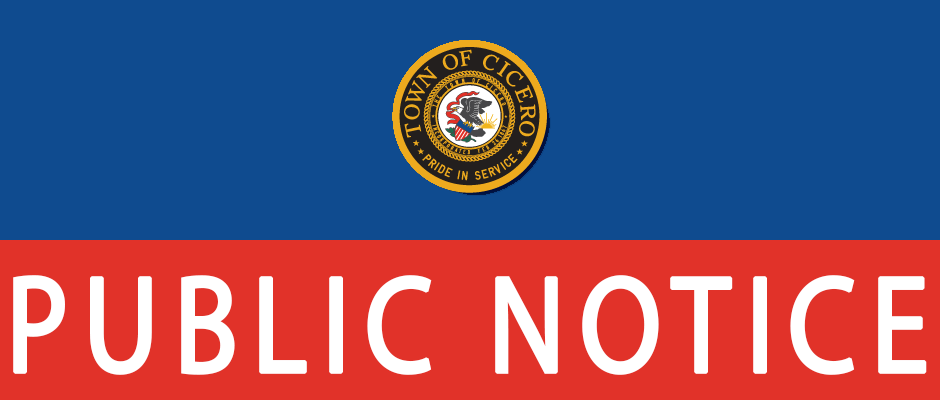 TOWN OF CICERO
DEPARTMENT OF HOUSING
Larry Dominick – Town President
CDBG-CV UTILITY ASSISTANCE PROGRAM APPLICATION
PROGRAM DESCRIPTION AND PURPOSE 
The Town of Cicero will utilize a portion of its allocation of CDBG-CV funds to make Emergency Payments for Public Utilities for Cicero residents of home-owner occupied single-family dwelling units that fell behind on payments for up to $500. This will not cover the cost of trash collection or late fees. In order to qualify for Emergency Payments, the applicant must: 
Apply for assistance through Town-provided application forms,

 

Document ownership of the property,

 

Document residency in the property,

 

Document low- to moderate-income of the household (see income limits attached),

 

Document they (the household) were financially impacted by the Covid-19 Pandemic,

 

Be delinquent in their utility (water) bill,

 

Document need for the Emergency Payment, and

 

Provide other information you may feel is relevant.

 
Applications are taken and processed on a first come first serve basis through May 1, 2022. Once budgeted funds are depleted, the program will no longer be offered. This program is funded by the United States Department of Housing and Urban Development's (HUD) Community Development Block Grant Coronavirus Program (CDBG-CV). Each application will go through extensive processing and verification. If approved, payment will be made directly to the Bureau of Water and Sewer. 
See Attached for more information.
Water Grant Application – English
Water Grant Application-Spanish
MUNICIPIO DE CICERO
DEPARTAMENTO DE VIVIENDA
Larry Dominick – Presidente del Municipio
SOLICITUD DEL PROGRAMA DE ASISTENCIA DE SERVICIOS PÚBLICOS CDBG-CV
DESCRIPCIÓN Y FINALIDAD DEL PROGRAMA
El Municipio de Cicero utilizará una parte de su asignación de fondos CDBG-CV para realizar Pagos de Emergencia por Servicios Públicos para los residentes de Cicero de unidades de vivienda unifamiliares ocupadas por propietarios que se atrasaron en pagos de hasta $ 500. Esto no cubrirá el costo de la recolección de basura ni los cargos por pagos atrasados. Para calificar para Pagos de emergencia, el solicitante debe:
Solicite asistencia a través de los formularios de solicitud proporcionados por la ciudad,
Documentar la propiedad de la propiedad,
Documentar la residencia en la propiedad,
Documentar los ingresos del hogar de bajos a moderados (consulte los límites de ingresos adjuntos),
Documentar que (el hogar) se vieron afectados financieramente por la pandemia Covid-19,
Ser moroso en su factura de servicios públicos (agua),
Documentar la necesidad del pago de emergencia y
Proporcione otra información que pueda considerar relevante.
Las solicitudes se toman y procesan por orden de llegada hasta el 1º de mayo de 2022. Una vez que se agoten los fondos presupuestados, el programa ya no se ofrecerá. Este programa está financiado por el Programa de Subsidios Globales para el Coronavirus (CDBG-CV) del Departamento de Vivienda y Desarrollo Urbano de los Estados Unidos (HUD). Cada solicitud pasará por un proceso y una verificación exhaustivos. Si se aprueba, el pago se hará directamente a la Oficina de Agua y Alcantarillado.
Consulte Adjunto para obtener más información.
Water Grant Application – English
Water Grant Application-Spanish