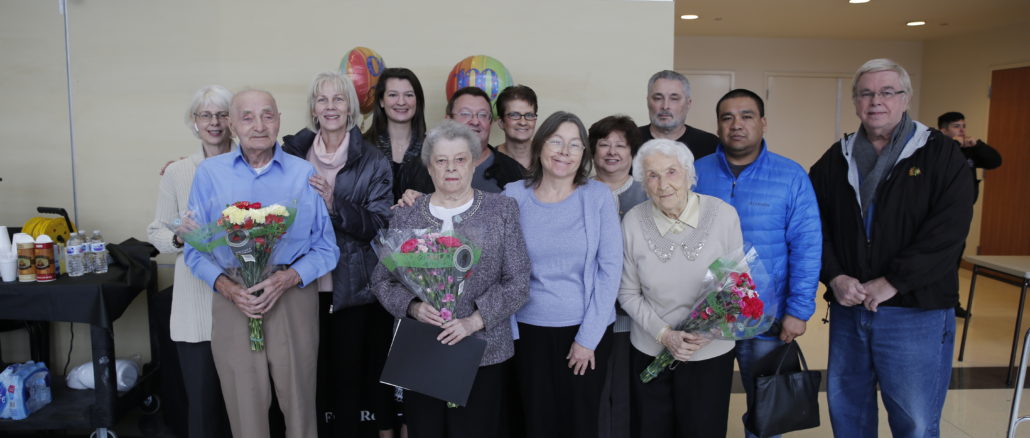 Town President Larry Dominick and the Town of Cicero board honored three senior citizens in the "Super Seniors" program coordinated by Town Collector Fran Reitz during the Jan. 23 board meeting. Seniors were recognized for their longevity, each turning 90 or older during the month. January's honorees included:
Eugene Dzidio, a 57 year resident of Cicero who was orphaned during World War II. He is a veteran of the Korean War, brushing against fame when he served as a driver when Eddie Fisher and Debbie Reynolds visited the troops. He told the story of a brief stay in the hospital where a doctor, checking on his cognitive skills, asked him who was the president. Eugene answered, "That's Larry Dominick, of course."
Katherine Illuk, turned 102 and has been a Cicero resident for 62 years. She survived World War II, having immigrated to Cicero in 1956. "I am so grateful to President Dominick and the board for all the services they provide to the seniors. I wish every senior can enjoy the benefits that we receive," Illuk said.
Rosa Marie Mangia, turned 91 and boasted about her 10 children, 20 grandchildren and eight great-grandchildren. "My family is my claim to fame," she said.
If you or someone you know is 90 years of age or older, please contact Town Collector Fran Reitz at (708) 656-3600, extension 274, or Marie Pikul at (708) 656-3600, extension 249, between 8am and 8pm, Monday through Thursday.