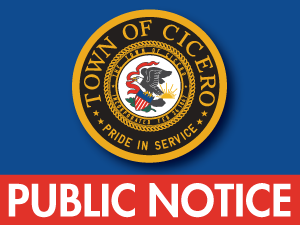 I.          PURPOSE OF THE REQUEST FOR QUALIFICATIONS
The Town of Cicero, Illinois (the "Town") is located approximately seven (7) miles west of Chicago's loop, and is bordered by Interstate 290 and Interstate 55. Interstate 290 intersects with Interstate 294 west of the Town, giving residents from Chicago's southern and northern suburbs, along with visitors from Indiana and Wisconsin, easy access to the Town. The Town is also easily accessible from Chicago's western suburbs via Interstate 88.
The Town is a home rule municipality, governed by a full-time Town President, a Town Clerk and a seven (7) member Board of Trustees. The current Town President is Larry Dominick who was reelected in 2017 to a four (4) year term ending in 2021.
The purpose of this RFQ is to select a "Respondent" to provide plan reviewing services for the Town.
II.        SCOPE OF SERVICES
The desired plan review specialist services include, without limitation, the following         (collectively, the "Services"):
Blueprint plan review to ensure compliance with adopted building codes and amendments, local ordinances, and any state, county or federal requirements.

Submit formal, written reports with plan reviews and re-reviews.
Clearly document, with comments, the recommendation for approval or rejection.

Fire safety plan reviews, which include without limitation sprinkler system, alarm systems, hood and ansul systems.

Submit formal written reports with all plan reviews and re-reviews.
Clearly document, with comments, the recommendation for approval or rejection.

Rough, final, pre-pour inspections on large commercial and new construction projects.

Submit formal written reports, with comments, for all inspections with pictures and recommendations of pass or fail.

General code consulting.
Perform Architectural, Mechanical, Plumbing, Electric, Fire Alarm, Fire Sprinkler, Hood and Ansul Systems, Zoning, and Structural reviews and inspections.
Provide the scope of work and instructions that should appear on the permit hard card.
Assist the Town in streamlining internal operations.
Ordinance creation recommendations, code update recommendations and policy and procedure creation.
Expert testimony.
Staff training to perform instruction to all Building Department employees as needed on building codes, permit review, etc.
Perform instruction and/or training of building inspectors on code requirements, inspections, etc.
Creation of a handout to be used at all preliminary meetings to clearly define the plan review, permit, and inspection processes for builders, homeowners, developers and others.
Represent the Town in meetings with developers, homeowners, builders and others to discuss the plan review, permit and inspection processes.
Provide standardized forms and pamphlets at the Town's request that provide instructions on submitting plans for reviews, requesting inspections, inspection approvals and/or rejections, providing a checklist of items needed and such other matters which are deemed necessary by the Town.
Communicate directly with applicant (after 1st submittal is processed by the Town) and keep the Town informed regarding said communication involving plan rejections, comments, etc.
Provide a quick time to review and fast turnaround time from the initial review, resubmittal, etc.
All submittals, including stamped approved plans, shall be provided as digital submittals.
Services shall include a clear-cut price per review and inspection – there shall be no additional fees for re-reviews.
Services shall include an expedited review fee.
The Town reserves the right to: (1) reject all qualifications (the "Qualifications") submitted, in whole or in part, and (2) award the Services to multiple Respondents. The Town reserves the right, in its sole and absolute discretion, to cancel or modify this RFQ in whole or in part, without further notice.
III.       REQUESTS FOR CLARIFICATION
Respondents should address all communications to Tom M. Tomschin, Building Commissioner.  All questions or requests for clarification must be in writing, sent by mail, email to ttomschin@thetownofcicero.com or fax to 708-656-9708 and must be received no later than 3:00 PM on February 12, 2019.  The Town shall not be responsible for the delay in the transmission of any request for clarification or other communication. Answers to all questions and/or requests for clarification will be posted on the Town's website and available to ALL respondents on February 19, 2019.
3.1       Deadline and Procedures for Submitting Qualifications
A.        Deadline
Qualifications must be received by Tom M. Tomschin, Building Commissioner (addressed as set forth in Section 3.1 (B) no later than 3:00 PM, local time, on February 28, 2019.  Late Qualifications will not be considered and will be rejected and destroyed.  The Town will not be responsible for any delays in the delivery, receipt or handling of Qualifications.
B.        Procedures For Submitting Qualifications
Qualifications must be delivered to the following address:
Town of Cicero
Attn: Tom M. Tomschin, Building Commissioner
4949 W. Cermak Rd.
Cicero, IL 60804
Respondent must submit six (6) sets of originals in hardcopy format.  In addition, Respondent must submit six (6) copies of the Qualifications on a CD-ROM or flash drive in .pdf format on a CD-ROM.  The original documents must clearly be marked and must bear the original signature of an authorized agent.  Respondent must enclose all documents in a sealed container.  Qualifications submitted via facsimile or electronic mail will not be accepted and will be rejected and destroyed. 
All submissions are subject to the Illinois Freedom of Information Act (5 ILCS 140/1, et seq.) 
For the entire RFP, including Submission Requirements, Evaluation Criteria, Rejection of Proposals, Contract Award, and Commitment to Diversity, please download and read the full RFQ for Plan Review Specialist.
Read the Responses to Questions for the RFQ for Plan View Specialist here.