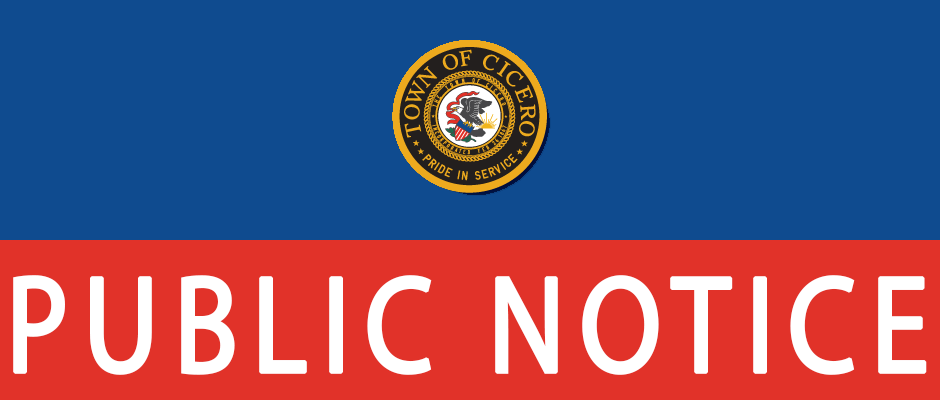 TOWN OF CICERO, ILLINOIS 
REQUEST FOR PROPOSALS
FOR CONSULTING SERVICES RELATED TO THE CONSTRUCTION OF A NEW PARK
ISSUE DATE: November 10, 2022
FINAL SUBMISSION DATE: December 12, 2022
REQUEST FOR PROPOSALS 
This Request For Proposals ("RFP") is made by the Town of Cicero, Illinois (the "Town") through its Department of Housing (the "Department") to qualified interested parties for sealed bid written proposals for a Community Development Block Grant Improvement Project (the "Project"), which consists of the construction of a new inclusive park (the "Park"). The Town seeks qualified professionals to perform necessary services for the Project. The Park will be located at or near 1834 South Laramie Avenue, Cicero, Illinois. The site consists of approximately seven (7) separate parcels. Not all parcels will be developed for the Park, and the Board of Trustees of the Town shall, in conjunction with Town staff and consultants, determine the ultimate budget and site for the Park.
The Project consists of the construction of a new park facility including an inclusive playground, driveways and parking lot, landscaping, lighting, fencing, walkways and sidewalk. Additional information regarding the Project and the Park is attached hereto and incorporated herein as set forth in Exhibit A.
This RFP shall not create any legal obligations on the Town to evaluate any Proposals that are submitted or to enter into any contract or other agreement with any party who submits a Proposal except on terms and conditions it deems in its sole and absolute discretion to be satisfactory and desirable. The right is reserved by the Town to reject any and all Proposals.
The professional services required for the Project will be performed under separate contracts as detailed by the following Bid Package work descriptions:
Bid Package #1: Environmental Consultant
Bid Package #2: Architect/Design Professional
The above described Bid Packages will be received up to the hour of 12:30 p.m. on December 12, 2022, at the Town Clerk's Office, Cicero Town Hall, 4949 W. Cermak Road, Cicero, Illinois 60804, and will be publicly opened and read beginning at 1:00 p.m., on December 12, 2022, in the Town's Court Room or other such room as may be available at that time.
THE TOWN OF CICERO AND THE PARK SITE
The Town is located approximately seven (7) miles west of Chicago's loop, and is bordered by Interstate 290 on its northern edge and Interstate 55 on its southern edge. Interstate 290 intersects with Interstate 294 approximately five (5) miles west of the Town, giving the Town easy access both from Indiana and Chicago's southern suburbs as well as Wisconsin and Chicago's northern suburbs. The Town is also easily accessible from Chicago's western suburbs via Interstate 88 which meets Interstate 290 less than one (1) mile north of the Town with two (2) separate exits.
The Town is a home-rule municipality, governed by a full-time Town President, a Town Clerk and a seven-member Board of Trustees. The Town President is Larry Dominick, who was elected in 2005. The Director of the Department will be the primary contact for purposes of this RFP.