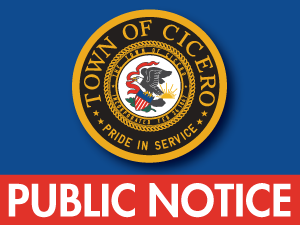 Public Notice
Town of Cicero
Larry Dominick – Town President
Consolidated Annual Performance Evaluation Report (CAPER) Program Year 2018 (PY18)
Community Development Block Grant Program (CDBG)
The Town of Cicero invites public review and comment on the Consolidated Annual Performance Evaluation Report (CAPER) for Program Year 2018 (PY18). The CAPER provides a detailed evaluation of the activities carried out by the Town of Cicero Department of Housing, using Community Development Block Grant (CDBG) funds from the United States Department of Housing and Urban Development (HUD) during the funding period of October 1, 2018 through September 30, 2019.
The public is asked to review and comment on the Town's CAPER during the review period of November 21, 2019 through December 9, 2019. Written comments should be directed to:
Town of Cicero – Department of Housing
1634 S Laramie Ave., Cicero, IL 60804
ATTN: Jorge M. Rueda – Executive Director
At the close of this reviewing period, a hearing will be held for public comment on Monday, December 9, 2019 at 11:00 a.m. at the Town of Cicero's Community Center. Copies of the CAPER are available at:
The Cicero Public Library – 5225 West Cermak Road, Cicero Town Hall – 4949 West Cermak Road,
The Town of Cicero Department of Housing – 1634 S Laramie Avenue, The Town of Cicero Community Center – 2250 S 49th Avenue, and
The Town of Cicero's Website (www.thetownofcicero.com)
For further information, please call (708) 656-8223
The Town of Cicero is an Equal Opportunity Employer
The Town of Cicero does not discriminate on the basis of disability.
This information will be made available in an alternative accessible format upon request.