Overview of work performed by town employees to help flood victims
(Below is a summary of work performed by the Town's various departments to help residents impacted by the floods. The numbers continue to rise but the data shows how much effort is being put into responding to resident need. English and Spanish)
President's Office
Worked with representatives of the State of Illinois and Cook County to secure an Emergency Declarations, which were issued and will qualify victims of the flooding to receive support.
Worked with Cook County officials to identify programs to provide funding (grants/loans) for residents who are in desperate need.
Created an Online Damage Assessment Report which has accumulated nearly 7,000 completed forms with photographs and specific data which can be presented to the State and County to qualify residents for support.
Supervised the Town's widespread efforts to respond to the Flooding, utilizing every Department and all employees. Ensured that departments have employees available 24/7 to respond to emergency and health related needs for residents.
Secured after-flood support from major national agencies such as the Red Cross and other agencies to provide services and supplies directly to residents at Town organized events.
Fire Department
The Cicero Fire Department responded to 309 calls during their 24 hour shift on Sunday , July 2, 2023. This is 10X the normal call volume during a normal 24 hour period. The Fire Chief was requested to assist in allocating resources at approximately 12:20 pm. This was right after the Town of Cicero activated its Emergency Operations Center.
The FD had its 3 Fire Engines, 2 Fire Trucks, & 3 ambulances all in use running calls during the heavy rains and flooding. Over half of the 309 calls that the FD went on were for flooded basements that posed electrical hazards as well. The 8 Fire apparatus vehicles manned a total of 21 Firefighter personnel that day. There were multiple calls of motorists that were stranded either in or on top of their vehicles, especially in the viaduct areas. Many families needed to be relocated due to uninhabitable conditions.
A large portion of our calls for service were for flooded basements. A flooded basement may cause many issues, including electrical hazards. The other main problem from flooding is natural gas hazards. When the pilot light of a furnace goes out, it is critical to shut down the structure's gas supply. Our crews performed this at hundreds of homes.
The Department also responded to numerous Fire Alarms, both commercial and residential, that were activated from the heavy rains. Fortunately, these turned out to be false alarms, but the amount of alarms we responded to added to the already overwhelming call volume.
Due to the amount of 911 calls we were receiving, additional dispatchers were brought in to field phone calls. During a large scale incident, ensuring every call is answered and addressed is critical.
In addition to the above mentioned call types, the Cicero Fire Department also responded to:
• 4 separate water rescues for people who were trapped in their vehicles under viaducts. The 6 people rescued in these incidents were unharmed.
• 3 separate water rescues for individuals trapped in their basements.
• 3 separate incidents for disabled residents needing assistance in vacating their property.
While managing the numerous flood related calls, the Department needed to maintain EMS services for medical emergencies. Fall victims, heart attacks, and vehicle accidents were all handled promptly, despite the additional challenges the Department faced.
Police Department
Activated the Town of Cicero Emergency Operations Center. Managed the closure of portions of 10 major thoroughfares including Austin Blvd, Central, Ogden and Laramie.
Prioritized emergency and safety calls. All personnel were utilized to manage flood response and preserve safety on a 24/7 basis.
The 911 Center reported an 823 percent increase in calls with responses averaging between 10 seconds and 40 seconds.
Provided personnel to assist in management and safety for flood related events including the Damage Assessment Report collections at five different Town sites; coordinated the July 18 Public Hearing, board meetings, and Red Cross giveaway on July 22.
Continued to provide emergency response for all emergency calls.
Health Department
The Health Department has a fulltime back of volunteers fielding dozens of health-related inquiries every day from residents regarding potential health problems from the flooding.
Connecting residents in need with agencies that provide food and clothing including the Salvation Army and the Catholic Charities
Providing contacts for residents who are having financial difficulties to obtain Rental Assistance to pay their rent/mortgage.
Provided volunteers to assist in filling our damage Assessment forms.
Building Department
The Building Department has suspended citations for having debris out in the alley. Over 250 permits have been issued since July 3, 2023 to present, including 13 dumpster permits.
No fines or tickets are being issued for anyone starting the work without obtaining a permit if it is related to flood damage restoration.
There is immediate approval of permits for flood damage restoration, roof permits, plumbing permits and any other kind of permits to help with the flood damages and preventative measures.
Outstanding tickets or liens on a property will not affect the issuance of permits for flood damage restoration and preventative maintenance.
Mental Health/General Assistance Dept
The Mental Health/General Assistance department has been actively referring residents to Beds Plus, an agency assisting in rental/mortgage assistance to residents affected by the flooding. About 30 families have been referred. The department has also been involved in coordinating an event with the Red Cross for this weekend July 22nd. I am also waiting on a flyer from Beds Plus with information and requirements to apply for the assistance, so it can be passed out this weekend since this agency is unable to attend the event.
Public Works Department
Employees working 24/7 to clear alleys of bulk waste. The amount of tonnage of waste has been nearly three times what is normally collected during normal waste removal. By July 5th, Public Works removed 1900 tons of garbage that was picked up. Crews worked continuously to relieve the pressure on homeowners. A normal week, we take 750 tons.
The cleanup effort has been supplemented with trucks from Cook County and several contracted by the Town to assist in the removal of the bulk waste from the flooding.
Water Department
Employees working 24/7 to respond to resident needs.
Making resident checks to ensure individuals are safe in flooded areas and properties.
Assessing flood damage to identify ways to help prevent flooding of properties.
Water & Sewer Department is going to ramp up their sewer cleaning and video inspections. Lido has recently approved a proposal submitted by National Power Rodding for sewer cleaning and video inspection for sewers on Cicero Avenue – Roosevelt Road to 16th Street & 19th Street to Cermak Road. This sewer cleaning and televising work will be on going.
Town supplemented their rodding of sewer lines by hiring outside contractors to expedite the removal of rainwater from homes where the rainwater did not properly drain after the floods receded.
Water department rodded out 3 miles of streets; cleaned out 20 car/gutter boxes (sewers along the curbs); rebuilt three major catch basins that collapsed after the flooding; installed new catch basins in some areas; rodded out more than 100 homes that needed assistance.
Senior Center
-Dozens of volunteers provided assistance tin completing Damage Assessment Reports each day, as well as translation services.
-Assisted Seniors in assessing damage and completing Reports.
-Distributed information to seniors on available services for support.
-Contacting and Bringing organizations such as Team Rubicon and the Grundy County COAD (Community Organizations Active in Disaster) to assist home residents affected by flooding in removing debris, furniture, damage wall and flooring from their basement at no cost.
-Assisting seniors to sign up with the above organization to removed hazard items and help reduce health risk by exposure to hazardous air contaminants
-Conducting health checks on Seniors.
Collectors Office
Suspended street maintenance ticketing for residents through July 23
Assisted residents to complete Damage Assessment forms.
Clerk's Office
Coordinating with Social Service agencies such as the Red Cross and Salvation Army to provide assistance to needy individuals. Staff have been working 24/7 to respond to resident needs.
Special Events Department
Coordinating distribution of post-flood cleanup and hygiene products through events such as the July 22 Town of Cicero/Red Cross community assistance day at Cicero Community Park.
Coordinated 100 volunteers and CSOs to assistant families to receive necessary relief. (Provided food and water to volunteers during their service periods.)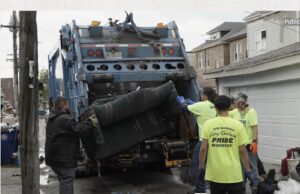 Animal Welfare Department/Waggin' Tails
The Animal Shelter had dozens of calls for both lost pets and residents requesting help finding temporary shelter for their pets as they dealt with the flooding challenges.
Employees responded to all calls rescuing several canines running at large during the floods and reuniting them with their owners. In cases where residents were disabled or could not travel, AWD returned their pets to their owners.
Resumen del trabajo de respuesta del Municipio de Cícero a las dos inundaciones
Oficina del Presidente
Trabajó con representantes del Estado de Illinois y el Condado de Cook para asegurar Declaraciones de Emergencia, las cuales fueron emitidas y permitirán que las víctimas de las inundaciones reciban apoyo.
Trabajó con funcionarios del Condado de Cook para identificar programas que brinden financiamiento (subvenciones/préstamos) para los residentes que se encuentren en una necesidad desesperada.
Creó un Informe de Evaluación de Daños en línea que ha acumulado casi 7,000 formularios completados con fotografías y datos específicos que pueden presentarse al Estado y al Condado para calificar a los residentes para recibir apoyo.
Supervisó los esfuerzos generalizados del municipio para responder a las inundaciones, utilizando todos los departamentos y empleados disponibles. Se aseguró de que los departamentos tuvieran empleados disponibles las 24 horas del día, los 7 días de la semana, para responder a las necesidades de emergencia y salud de los residentes.
Obtuvo apoyo posterior a las inundaciones de importantes agencias nacionales como la Cruz Roja y otras agencias para proporcionar servicios y suministros directamente a los residentes en eventos organizados por el municipio.
Departamento de Bomberos El Departamento de Bomberos de Cícero respondió a 309 llamadas durante su turno de 24 horas el domingo 2 de julio de 2023. Esto representa 10 veces el volumen de llamadas normal durante un período de 24 horas. El Jefe de Bomberos recibió la solicitud de ayudar a asignar recursos aproximadamente a las 12:20 pm, justo después de que el Municipio de Cícero activara su Centro de Operaciones de Emergencia.
El Departamento de Bomberos de Cícero tiene 3 camiones de bomberos, 2 camiones de bomberos y 3 ambulancias del departamento estaban en uso atendiendo llamadas durante las fuertes lluvias e inundaciones. Más de la mitad de las 309 llamadas a las que el departamento respondió fueron por sótanos inundados que representaban riesgos eléctricos. Los 8 vehículos del departamento estaban tripulados por un total de 21 bomberos ese día. Se recibieron múltiples llamadas de automovilistas que quedaron varados dentro o encima de sus vehículos, especialmente en las zonas de viaductos. Muchas familias necesitaron ser reubicadas debido a las condiciones inhabitables.
Una gran parte de nuestras llamadas de servicio fueron por sótanos inundados. Un sótano inundado puede causar muchos problemas, incluyendo riesgos eléctricos. El otro problema principal de las inundaciones son los riesgos de gas natural. Cuando la llama piloto de un horno se apaga, es crucial cerrar el suministro de gas de la estructura. Nuestros equipos realizaron esta tarea en cientos de hogares.
El departamento también respondió a numerosas alarmas de incendio, tanto comerciales como residenciales, que se activaron debido a las fuertes lluvias. Afortunadamente, resultaron ser falsas alarmas, pero la cantidad de alarmas a las que respondimos se sumó al volumen de llamadas abrumador.
Debido a la cantidad de llamadas al 911 que estábamos recibiendo, se trajeron despachadores adicionales para atender las llamadas telefónicas. Durante un incidente a gran escala, es fundamental que se responda y se atienda cada llamada.
Además de los tipos de llamadas mencionados anteriormente, el Departamento de Bomberos de Cícero también respondió a:
4 rescates acuáticos separados de personas atrapadas en sus vehículos bajo los viaductos. Las 6 personas rescatadas en estos incidentes no resultaron heridas.

3 rescates acuáticos separados de personas atrapadas en sus sótanos.

3 incidentes separados de residentes discapacitados que necesitaban ayuda para evacuar su propiedad.
Mientras gestionaba las numerosas llamadas relacionadas con las inundaciones, el departamento también necesitaba mantener los servicios de EMS para emergencias médicas. Los casos de caídas, ataques cardíacos y accidentes de vehículos fueron atendidos de manera oportuna, a pesar de los desafíos adicionales que enfrentaba el departamento.
Departamento de Policía
Activó el Centro de Operaciones de Emergencia del Municipio de Cícero. Gestionó el cierre de partes de 10 arterias principales, incluyendo Austin Blvd, Central, Ogden y Laramie.
Priorizó las llamadas de emergencia y seguridad. Todo el personal fue utilizado para gestionar la respuesta a las inundaciones y preservar la seguridad las 24 horas del día, los 7 días de la semana.
El Centro de 911 informó un aumento del 823 por ciento en las llamadas, con tiempos de respuesta que oscilaban entre 10 y 40 segundos.
Proporcionó personal para ayudar en la gestión y seguridad de eventos relacionados con las inundaciones, incluida la recolección de informes de evaluación de daños en cinco sitios diferentes del municipio; coordinó la Audiencia Pública del 18 de julio, las reuniones del consejo y la distribución de ayuda de la Cruz Roja el 22 de julio.
Continuó brindando respuesta de emergencia para todas las llamadas de emergencia.
Departamento de Salud
El Departamento de Salud cuenta con un equipo de voluntarios a tiempo completo que atiende docenas de consultas relacionadas con la salud todos los días de los residentes sobre posibles problemas de salud debido a las inundaciones.
Conectando a los residentes necesitados con agencias que proporcionan alimentos y ropa, incluyendo el Ejército de Salvación y Caridades Católicas.
Proporcionando contactos para residentes que tienen dificultades financieras para obtener Asistencia de Alquiler y pagar su renta/hipoteca.
Proporcionó voluntarios para ayudar a completar los formularios de Evaluación de Daños.
Departamento de Construcción
El Departamento de Construcción ha suspendido las multas por tener escombros en los callejones. Se han emitido más de 250 permisos desde el 3 de julio de 2023 hasta la fecha, incluidos 13 permisos para contenedores de basura.
No se emiten multas ni boletos a quienes comienzan los trabajos sin obtener un permiso si está relacionado con la restauración de daños por inundaciones.
Se aprueban de inmediato los permisos para la restauración de daños por inundaciones, permisos de techado, permisos de plomería y cualquier otro tipo de permisos para ayudar con los daños causados por las inundaciones y las medidas preventivas.
Las multas o embargos pendientes en una propiedad no afectarán la emisión de permisos para la restauración de daños por inundaciones y el mantenimiento preventivo.
Departamento de Salud Mental/Asistencia General
El departamento de Salud Mental/Asistencia General ha estado remitiendo activamente a los residentes a Beds Plus, una agencia que brinda asistencia de alquiler/hipoteca a los residentes afectados por las inundaciones. Se han referido aproximadamente a 30 familias. El departamento también ha participado en la coordinación de un evento con la Cruz Roja para este fin de semana, el 22 de julio. También estoy esperando un folleto de Beds Plus con información y requisitos para solicitar la asistencia, para poder distribuirlo este fin de semana, ya que esta agencia no puede asistir al evento.
Departamento de Obras Públicas
Empleados trabajando las 24 horas del día, los 7 días de la semana para limpiar los callejones de residuos voluminosos. La cantidad de toneladas de desechos ha sido casi tres veces lo que normalmente se recoge durante la eliminación normal de residuos. Hasta el 5 de julio, Obras Públicas retiró 1900 toneladas de basura que se recogieron. Los equipos trabajaron continuamente para aliviar la presión sobre los propietarios. En una semana normal, recogemos 750 toneladas.
El esfuerzo de limpieza se ha complementado con camiones del Condado de Cook y varios contratados por el municipio para ayudar en la eliminación de los desechos voluminosos de las inundaciones.
Departamento de Agua Empleados trabajando las 24 horas del día, los 7 días de la semana para responder a las necesidades de los residentes.
Realizando verificaciones de residentes para asegurarse de que las personas estén a salvo en áreas y propiedades inundadas.
Evaluando los daños por inundaciones para identificar formas de ayudar a prevenir inundaciones en las propiedades.
El Departamento de Agua y
Alcantarillado va a intensificar la limpieza y las inspecciones de video de las alcantarillas.
Recientemente, Lido aprobó una propuesta presentada por National Power Rodding para la limpieza y la inspección de video de las alcantarillas en la Avenida Cicero, desde Roosevelt Road hasta la Calle 16 y desde la Calle 19 hasta la Calle Cermak. Este trabajo de limpieza e inspección de alcantarillas será continuo.
El municipio complementó la limpieza de las líneas de alcantarillado contratando a contratistas externos para acelerar la eliminación del agua de lluvia de los hogares donde el agua de lluvia no se drenó correctamente después de las inundaciones.
El departamento de agua limpió 3 millas de calles; limpió 20 cajas de desagüe de automóviles (alcantarillas a lo largo de los bordillos); reconstruyó tres grandes sumideros que colapsaron después de las inundaciones; instaló nuevos sumideros en algunas áreas; limpió más de 100 hogares que necesitaban ayuda.
Centro para Personas Mayores
Decenas de voluntarios brindaron asistencia diariamente para completar los Informes de Evaluación de Daños, así como servicios de traducción.

Ayudaron a personas mayores a evaluar los daños y completar los informes.

Distribuyeron información a personas mayores sobre los servicios disponibles para recibir apoyo.

Contactaron y trajeron organizaciones como Team Rubicon y el Grundy County COAD (Organizaciones Comunitarias Activas en Desastres) para ayudar a los residentes afectados por las inundaciones a eliminar escombros, muebles, paredes y pisos dañados en sus sótanos sin costo alguno.

Ayudaron a las personas mayores a inscribirse en las organizaciones mencionadas para retirar elementos peligrosos y reducir el riesgo para la salud debido a la exposición a contaminantes del aire peligrosos.

Realizaron controles de salud en personas mayores.
Oficina de Recaudación de Impuestos
Suspensión de las multas por mantenimiento de calles para los residentes hasta el 23 de julio
Ayudó a los residentes a completar los formularios de Evaluación de Daños.
Oficina del Secretario
Coordinando con agencias de servicios sociales como la Cruz Roja y el Ejército de Salvación para brindar asistencia a personas necesitadas. El personal ha estado trabajando las 24 horas del día, los 7 días de la semana para responder a las necesidades de los residentes.
Departamento de Eventos Especiales
Coordinando la distribución de productos de limpieza posteriores a las inundaciones y productos de higiene a través de eventos como el día de asistencia comunitaria del 22 de julio organizado por el municipio de Cícero y la Cruz Roja en el Parque Comunitario de Cícero.
Coordinación de 100 voluntarios y CSOs para ayudar a las familias a recibir el alivio necesario. (Proporcionando comida y agua a los voluntarios durante sus períodos de servicio.)
Departamento de Bienestar Animal / Waggin' Tails
El refugio de animales recibió docenas de llamadas tanto de mascotas perdidas como de residentes que solicitaban ayuda para encontrar refugio temporal para sus mascotas mientras enfrentaban los desafíos de las inundaciones.
Los empleados respondieron a todas las llamadas, rescatando a varios perros que estaban sueltos durante las inundaciones y reunirlos con sus dueños. En los casos en que los residentes estaban discapacitados o no podían viajar, el departamento devolvió sus mascotas a sus propietarios.