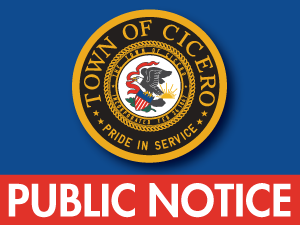 TOWN OF CICERO
GROUND STORAGE TANK IMPROVEMENTS
I. TIME AND PLACE OF OPENING OF BIDS: Sealed Proposals for the improvement described herein will be received at the office of the Town Clerk of the Town of Cicero, 4949 W. Cermak Road, Cicero, Illinois, 60804 until 10:30 a.m., April 2, 2020 and will be publicly opened and read at that time, in the Town Clerk's Office meeting room.
II. DESCRIPTION OF WORK: Demolition of an existing 200,000 gallon steel ground potable water storage tank and construction of a new 200,000 gallon steel ground potable ground storage tank on the existing foundation, including all required piping, tank painting, electrical work, and other appurtenant construction for a complete installation at the 47th Avenue Pumping Station (4735 W Roosevelt Road).
III. INSTRUCTIONS TO BIDDERS:
A. All work will be in conformance with the "Standard Specifications for Water and Sewer Main Construction in Illinois", dated 2014.
B. Plans and proposal forms will be available for download only from QuestCDN via the Novotny Engineering website, http://novotnyengineering.com, "Bidding" tab, for a non-refundable charge of $30.00. Please contact Novotny Engineering (630-887-8640) to obtain the QuestCDN password.
C. Only qualified Contractors who can furnish satisfactory proof that they have performed work of similar nature as Contractors will be entitled to receive Plans and submit Proposals. In order to meet this requirement, at the request of the Engineer, bidders will be required to submit a "Statement of Experience" consisting of a list of previous projects of similar nature in order to receive Plans. The Owner reserves the right to issue Bid Documents only to those Contractors deemed qualified.
D. All Proposals must be accompanied by a Bank Cashier's Check, Bank Draft, Certified Check, or Bid Bond for not less than ten percent (10%) of the total amount of the Bid, or as provided in the applicable sections of the "Standard Specifications".
E. The Contractor will be required to pay Prevailing Wages in accordance with all applicable laws.
IV. REJECTION OF BIDS: The Owner reserves the right to reject any or all Proposals, to waive technicalities, and to accept the Proposal deemed to be most favorable to the Owner.
BY ORDER OF:
PRESIDENT & BOARD OF TRUSTEES
TOWN OF CICERO
Maria Punzo-Arias, Clerk