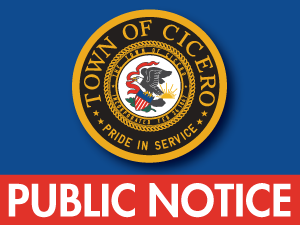 Notice to Contractors
TOWN OF CICERO
PARKING STRUCTURE MAINTENANCE REPAIRS
4949 W CERMAK ROAD, CICERO IL 60804
TIME AND PLACE OF OPENING OF BIDS: Sealed Proposals for the improvement described herein will be received at the office of the Town Clerk of the Town of Cicero, 4949 W. Cermak Road, Cicero, Illinois, 60804 until 1:00 p.m., March 21, 2019, and will be publicly opened and read at that time.
DESCRIPTION OF WORK: Work consists of concrete repairs to tee flange and stems, miscellaneous concrete repairs, replacement of floor and vertical sealants, replacement of expansion joints, recoat the existing traffic topping, shear connector replacement, and other miscellaneous repairs for a four-floor parking structure (Parking Structure Footprint Area = 32,384 S.F.).
OWNER'S REPRESENTATIVE:
Project Engineer: Walker Consultants, 2895 Greenspoint Parkway, Ste. 600, Hoffman Estates, IL 60169; Tel: 630.503.6950. Contact: Larry Susmarski (lsusmarski@walkerconsultants.com)
INSTRUCTIONS TO BIDDERS:

Contract Documents can be obtained on February 22, 2019. Documents will be provided to prime bidders only.
Prime bidders may obtain a PDF version of  all  bid  documents by requesting a copy via  e-mail from the Town Engineer (tgeary@novotnyengineering.com) attention Tim Geary, P.E. Novotny Engineering, 545 Plainfield Road. Ste. A, Willowbrook, IL 60527 (630-887-8640).
Bidders qualifications will be reviewed by the Owner. Prequalification forms are included in the proposal document.
The successful Bidder and all of its Subcontractors will be required to comply with all laws statutes, regulations, ordinances, rulings or enactments of any Local, State and Federal laws concerning payment of prevailing wage rates and all Federal, State and Local laws requirements concerning equal opportunities including, but not limited to, the Illinois Fair Employment Practices Act and Illinois Prevailing Wage Act.
A mandatory pre-bid meeting for all bidders will be held at the Project Site (top level of the parking deck) on March 14, 2019 at 10:00 a.m. Prospective prime bidders are required to attend. Owner's Representative will provide responses at Pre-bid conference to bidders' questions received up to two business days prior to the conference.
All Proposals must include a Bid Security in an amount of not less than ten percent (10%) of the total bid amount. Bid Security should be in the form of a bank cashier's check, certified check, or bid bond.
Bidders must be properly licensed under the laws governing their respective trades and be able to obtain insurance and bonds required for the Work. A Performance Bond, separate Labor  and Material Payment Bond, and Insurance in a form acceptable to the Owner will be required of the successful Bidder.

REJECTION OF BIDS: The Owner reserves the right to reject any or all Proposals, to waive technicalities, and to accept the Proposal deemed to be most favorable to the Owner.
BY ORDER OF:
PRESIDENT & BOARD OF TRUSTEES
TOWN OF CICERO
Maria Punzo-Arias, Clerk