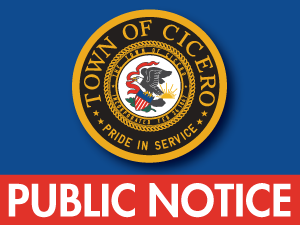 NOTICE TO CONTRACTORS
I.          TIME AND PLACE OF OPENING OF BIDS:
Sealed Proposals for the improvement described herein will be received at the office of the Town Clerk, Town of Cicero, 4949 W. Cermak Road, Cicero, IL 60804, until 10:00 a.m., March 15, 2018, and will be publicly opened and read at that time.
II.         DESCRIPTION OF WORK:
The proposed work is officially known as: Building Demolition – Contract No. 17
and consists of the demolition and disposal of nine (9) residential type buildings including asbestos abatement work and all other appurtenant work required to complete the project.
III.        INSTRUCTIONS TO BIDDERS:
A.            All applicable work will be in conformance with the "Standard Specifications for Road and Bridge Construction", dated April 1, 2016, and the "Standard Specifications for Water and Sewer Main Construction in Illinois", Edition/2014.
B.         Proposal forms may be obtained from the Project Engineer, Novotny Engineering, 545 Plainfield Road, Suite A, Willowbrook, IL 60527, (630) 887-8640, for a non-refundable fee of $50.00.
Proposal forms are non-transferable.  Only those Proposals that have been obtained from, and with the approval of, Novotny Engineering will be accepted at the bid opening.
C.         Only qualified Contractors who can furnish satisfactory proof that they have performed work of similar nature as Contractors will be entitled to receive Plans and submit Proposals.  To meet this requirement, at the request of the Engineer, bidders will be required to submit a "Statement of Experience" consisting of a list of previous projects of similar nature in order to receive Plans. The Owner reserves the right to issue Bid Documents only to those Contractors deemed qualified.
D.         All Proposals must be accompanied by a Bank Cashier's Check, Bank Draft, Certified Check, or Bid Bond for not less than five percent (5%) of the total amount of the Bid, or as provided in the applicable sections of the "Standard Specifications".
E.         No Bid may be withdrawn after opening of Proposals without the consent of the Owner for a period of forty-five (45) days after the scheduled time of opening of Bids.
F.         The Contractor will be required to furnish a labor and material "Performance Bond" in the full amount of the Contract.
G.         The Contractor will be required to pay Prevailing Wages in accordance with all applicable laws.
IV.        AWARD CRITERIA AND REJECTION OF BIDS:
This Contract will be awarded to the lowest responsive and responsible bidder considering conformity with the terms and conditions established by the Town of Cicero in the Proposal and Contract documents. The issuance of Proposal documents for bidding based upon a prequalification rating shall not be the sole determinant of responsibility. The Town of Cicero reserves the right to determine responsibility at the time of award, to reject any and all Proposals, to re-advertise the proposed improvements, and to waive technicalities.