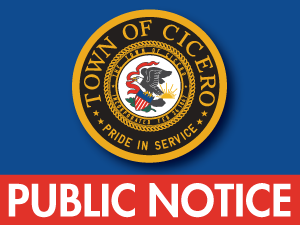 TAKE NOTICE that the Town of Cicero, Illinois (the "Town") has issued a Request for Proposals to qualified interested parties for sealed, written proposals to provide certain security cameras and related equipment and services to the Town.
The Request for Proposals is available below. All proposals must be received by Maria Medina, Office of the President, by mail or personal delivery (no proposals sent via facsimile or electronic mail will be accepted), by 3:00 p.m. on March 20, 2018.
The Request for Proposals shall not create any legal obligations on the Town to evaluate any proposal that is submitted or to enter into any contract or other agreement with any party who submits a proposal except on terms and conditions the Town, in its sole and absolute discretion, deems to be satisfactory and desirable.  The right is reserved by the Town to reject any and all proposals. The bid opening shall occur on March 21, 2018 at 10:00 a.m. at Town Hall, located at 4949 W. Cermak Road, Cicero, Illinois.
Town of Cicero
REQUEST FOR PROPOSALS (RFP) FOR
INSTALLATION AND MAINTENANCE OF SECURITY CAMERA SYSTEMS AND EQUIPMENT FOR
THE TOWN OF CICERO
All proposals and other communications must be addressed and returned to:
Town of Cicero
Attn: Maria Moreno, Office of the Town President
4949 W. Cermak Rd.
Cicero, IL 60804
PROPOSALS MUST BE RECEIVED NO LATER THAN 3:00 PM LOCAL TIME,
ON MARCH 20, 2018
PURPOSE OF THE REQUEST FOR PROPOSALS
The Town of Cicero, Illinois (the "Town") is located approximately seven (7) miles west of Chicago's loop, and is bordered by Interstate 290 and Interstate 55. Interstate 290 intersects with Interstate 294 west of the Town, giving residents from Chicago's southern and northern suburbs, along with visitors from Indiana and Wisconsin, easy access to the Town. The Town is also easily accessible from Chicago's western suburbs via Interstate 88.
The Town is a home rule municipality, governed by a full-time Town President, a Town Clerk and a seven (7) member Board of Trustees. The current Town President is Larry Dominick who was reelected in 2017 to a four (4) year term ending in 2021.
The purpose of this RFP is to select one or more "Respondents" to provide the following services to the Town:
(1) Upgrade and replace existing security cameras (the "Security Cameras") on the following Town properties:
Police Station, located at 4901 Cermak Road, Cicero, Illinois;
Town Hall, located at 4949 West Cermak Road, Cicero, Illinois;
The Town's parking structure, located adjacent to Town Hall;
The Cicero Community Center, located at 2250 South 49th Avenue, Cicero, Illinois; and
The Cicero Metra parking lot
(2) Maintain and/or repair thirty (30) or more existing Security Cameras located at various intersections within the Town;
(3) Upgrade and replace the existing Security Cameras described in Section (I)(2) above on an as needed basis. Please provide a per unit price for the purchase and installation of a Security Camera which shall remain valid for a period of not less than three (3) years;
(4) The installation of any and all necessary hardware and software for the management of the Security Cameras and storage of digital footage and data as required (the "Related Equipment"), which shall be operated together with the Town's existing Security Camera system, which is located at Town Hall, and is operated on the Milestone Platform; and
(5) Maintenance of any Security Cameras installed by the Respondent and the Related Equipment for a period of at least three (3) years.
(6) Training of Town officials and/or employees on the use of the Security Camera System.
For the Remainder of the RFP, please download the RFP for Security Cameras. Amendment 1 can be found here.