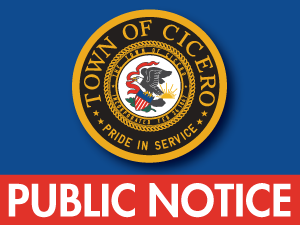 TAKE NOTICE that the Town of Cicero, Illinois (the "Town") has issued a Request for Proposals to qualified interested parties for sealed, written proposals to provide an automated red-light enforcement system and related equipment and services to the Town.
The Request for Proposals is available below. All proposals must be received by Maria Medina, Office of the President, by mail or personal delivery (no proposals sent via facsimile or electronic mail will be accepted), by 3:00 p.m. on March 20, 2018.
The Request for Proposals shall not create any legal obligations on the Town to evaluate any proposal that is submitted or to enter into any contract or other agreement with any party who submits a proposal except on terms and conditions the Town, in its sole and absolute discretion, deems to be satisfactory and desirable.  The right is reserved by the Town to reject any and all proposals. The bid opening shall occur on March 21, 2018 at 10:30 a.m. at Town Hall, located at 4949 W. Cermak Road, Cicero, Illinois.
Town of Cicero
REQUEST FOR PROPOSALS (RFP) FOR
INSTALLATION AND MAINTENANCE OF AN AUTOMATED RED-LIGHT ENFORCEMENT ("ARLE") PROGRAM FOR
THE TOWN OF CICERO
All proposals and other communications must be addressed and returned to:
Town of Cicero
Attn: Maria Moreno, Office of the Town President
4949 W. Cermak Rd.
Cicero, IL 60804 
PROPOSALS MUST BE RECEIVED NO LATER THAN 3:00 PM LOCAL TIME,
ON MARCH 20, 2018
PURPOSE OF THE REQUEST FOR PROPOSALS
The Town of Cicero, Illinois (the "Town") is located approximately seven (7) miles west of Chicago's loop, and is bordered by Interstate 290 and Interstate 55. Interstate 290 intersects with Interstate 294 west of the Town, giving residents from Chicago's southern and northern suburbs, along with visitors from Indiana and Wisconsin, easy access to the Town. The Town is also easily accessible from Chicago's western suburbs via Interstate 88.
The Town is a home rule municipality, governed by a full-time Town President, a Town Clerk and a seven (7) member Board of Trustees. The current Town President is Larry Dominick who was reelected in 2017 to a four (4) year term ending in 2021.
Currently, the Town does not have an automated red-light enforcement ("ARLE") program. The purpose of this RFP is to select one or more "Respondents" with expertise in ARLE to provide the following goods and services to the Town:
Provide, install, operate, maintain and repair an ARLE Program in the Town, including the installation of any and all red-light cameras and related hardware, software, equipment and other goods or services which may be necessary to implement and operate the Program;
Provide storage of digital images and electronic data and records from the Program for a minimum of thirty (30) days. The successful Respondent shall further agree to and abide by the Local Records Act regarding the storage of any images or video captured by the ARLE Program;
Provide the initial verification of any red-light citations;
Issuance and mailing of warning or violation notices or subsequent collection notices for ARLE citations;
Citation processing and matching with the Illinois Department of Motor Vehicles;
Provide customer services to individuals to whom citations are issued;
Provide an online platform through which violators may pay citation fees and fines;
Provide training to Town employees on the Program;
Provide administrative and adjudication hearing support and testimony, as needed; and
Provide monthly reports of ARLE Program activity.
Upon selection, the successful Respondent shall also evaluate intersections in the Town to determine which intersections are suitable for inclusion in the ARLE Program.
For more information, please download the 
For Amendment 1, please visit
For Amendment 2, please visit 
For Amendment 3, please visit