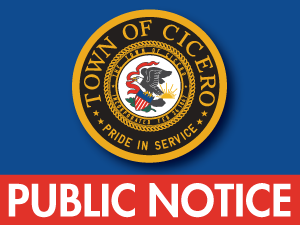 Notice Of The Town of Cicero's Posting Of Information Pertaining To Employee Total Compensation
TAKE NOTICE that pursuant to Section 7-3 of the Illinois Open Meetings Act (5ILCS 120 /7-3) total compensation information for each employee of the Town of Cicero (the "Town") with a total compensation package that exceeds $75,000 per year is available for public inspection by any interested party in the Office of the Town Clerk.
The Office of the Town Clerk, which is located at 4949 W. Cennak Rd, Cicero, Illinois 60804, is open to the public Mondays through Thursday from 8:00am to 8:00pm. The Office of the Town Clerk may also be reached by calling (708) 656-3600.
Town of Cicero
County of Cook, Illinois February 21, 2019