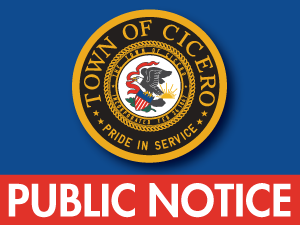 BOARD OF FIRE AND POLICE COMMISSIONERS OF THE TOWN OF CICERO
NOTICE OF INTENT TO HIRE PART TIME POLICE OFFICERS FOR THE TOWN OF CICERO
The Town of Cicero Police Department is announcing the intent to hire a number of persons who may be qualified as per the below listed items;
Must be of good moral character, of temperate habits, of sound health, and physically and mentally able to perform assigned duties;
Must not possess any felony convictions or any misdemeanor involving moral turpitude, as specified in 65 ILCS 5/10-2.1-6 of the Fire and Police Commissioners Act;
Must not be the Respondent to an order of protection;
Must not have been dismissed from any public service for good cause;
Must not have attempted to practice or practices any deception or fraud in his or her application for employment;
Must not be found to have unsatisfactory character and employment reference(s);
Must not have been convicted of any DUI or other misdemeanor traffic offenses or had his or her driver's license suspended or revoked within two (2) years prior to application;
Any individual who has served in the U.S. military must have been honorably discharged;
At the time of hire must have been previously trained and certified in accordance with the Illinois Police Training Act (50 ILCS 705/1 etseq.) and the rules and requirements of the Illinois Law Enforcement Training and Standards Board (ILETSB);
Must qualify for a State of Illinois Firearm Owner's Identification card;
Must be able to successfully complete polygraph and psychological testing, fingerprinting and background check;
Must be able to successfully complete a physical and drug testing;
Must be qualified to enter and successfully complete any training mandated by the ILETSB. That the aforesaid hiring standard, with respect to Part-Time Police Officers employed by the Town of Cicero, Cook County, Illinois, shall be submitted to the Illinois Law Enforcement Training Standards Board, as directed by statute.
Applications may be picked up at the Town of Cicero Human Resources Department after April 1, 2019.
Completed applications are to be returned with required documents to the Human Resources Department.
The Cicero Fire and Police Commission reserves the right to reject incorrect or incomplete applications.
DOWNLOAD THESE PDF FILES FOR MORE INFORMATION.
Questions that applicants or intended applicants may have will be addressed by email ONLY at pfcommission@thetownofcicero.com