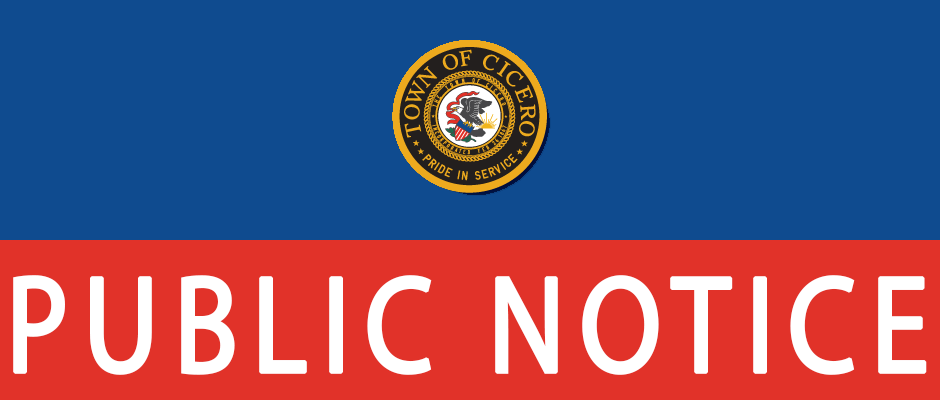 CLICK HERE FOR PDF OF TOWN OF CICERO – NOTICE FOR Re-BID
Community Development Block Grant
Emergency Assistance Programs
The Town of Cicero Department of Housing is currently seeking bids for "Qualified Emergency Contractors" for the following trades:
HVAC                        Roofing                         Plumbing                            Sewer                          Electrical
The selected contractor(s) will be required to provide "on call", 24 hour/7 day per week, emergency service within two (2) hours of notification.  The following must be included with any bid submitted:
Emergency Assistance Program Contractor Bid Form (available at thetownofcicero.com or pick up at 1634 S. Laramie Ave.),
Required attachments listed in the

bid form

.
Work Description
Contractor shall provide all labor, materials, tools, and equipment to perform repairs if possible or replacement of defective systems, dependent upon trade:

Defective heating units between 10/1/2022 – 5/1/2023
Defective Central AC Units between 5/1/2023 – 9/30/2023
Collapsed sewers on private property
Broken pipes that require water main shut off
Collapsed roofs or deteriorated roofs that threaten the occupancy of the structure
Repair of defective electrical equipment that threatens the occupancy of the structure

The work shall include furnishing and installing all materials needed to make the appropriate repairs/replacement.
All work, materials and manner of placing materials are to be in strict accordance with the Department of Housing Contractor Manual (available upon request) and all local, state, and federal laws and ordinances.
Contractor shall be compensated on a time and material basis, in accordance with the rates set forth in the contract.
SEALED BID DUE DATE
Monday,  November 14, 2022 at 12PM
Cicero Department of Housing
1634 South Laramie Avenue
Cicero, IL  60804
ATTN: Emergency Assistance Contractor Bid