More than 500 people attend Cicero "Back to School" and Health Fair
Town President Larry Dominick and the Town of Cicero Board of Trustees and the Cicero Health Department Director Sue Grazzini and her staff hosted a "Back to School" & Health Fair on Wednesday July 20 for students, families and Seniors at the Cicero Community Center., 2250 S. 49th Ave.
Officials said the fair was "well attended and a great success."
Over 500 residents attended this program. Heath Department officials administered more than 130 physicals and dental exams were provided free of charge.
"All immunizations including COVID19 were administered free of charge. We partnered with Jewel Osco to assist us in being able to immunize both children and adults. Over 100 free blood draws were provided to participants by Simple Labs. Our medical provider will follow up on all blood tests results," Grazzini said.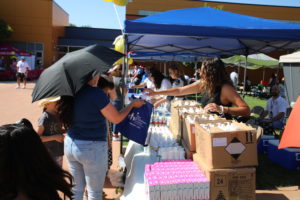 This was the first health fair sponsored by The Cicero Health Department since the Covid-19 Pandemic.
"Due to the high transmission rate of Covid-19 in Cook County, the Health Fair included services in the court yard in addition to medical services in the Community Center. Over 40 vendors provided services to the community which included free giveaways, raffles and education. Cicero Fire and Police provided valuable information at the fair as did other Town of Cicero Departments," Grazzini said.
"We are very pleased with the services that were provided free of charge to our residents. I wanted to address the highest areas of concern identified by the Illinois Department of Public Health and provide education and resources to our residents which I feel was accomplished at the Health Fair. Behavioral Health Facilities were at the Health Fair with resources and information."
Grazzini added that "Stop the Bleed" education was provided by Loyola Medical Center to educate the public on how to recognize life-threatening bleeding and to intervene effectively.
Opiate Abuse and Overdose information and education was provided with Narcan training. In addition to training, Narcan was also distributed.
"I want to thank President Dominick and the Board of Trustees for their foresight in providing the best care for our Cicero Residents. As always President Dominick , Board of Trustees and the Health Department strives diligently to complete our mission to Cicero Residents," Grazzini said.
Cook County Commissioner Frank Aguilar, who worked closely with the Cicero Health Department and with Grazzini called the event a tremendous success.
"I'd like to thank President Dominick and Director Grazzini for inviting me today," said Commissioner Aguilar.
"Providing needed services to the communities we serve is essential to supporting our residents. We must do everything we can do to make families' lives easier. The combination of life-saving educational and training services, combined with immunization and school supplies distribution, meets those needs head on. Thank you to everyone who came out today for such a great event!"
Illinois Department of Health (IDPH), Blue Cross Blue Shield, Loyola Medicine, and Bell Mar Beauty School were among the organizations present during the health fair. IDPH offered health screenings for STDs and HEP C, and educated the community about opioid usage, including distributing Narcan. Blue Cross Blue Shield teamed up with Jewel to provide immunizations to children. Loyola Medicine educated residents on how to Stop the Bleeding after gunshot or other serious injuries. Bell Mar Beauty School offered free haircuts and manicures to all residents who were interested. Residents also had a chance to enter a raffle to win prizes such as TVs, toys, gift certificates and much more. Other services included vaccinations, free lead and hemoglobin screenings, and fire and police safety tips.
To view more photos of the event, please visit the Town of Cicero Facebook Page by
clicking here
.
Más de 500 personas asisten a la Feria de Salud en Cicero de "Regreso a Clases".
El presidente, Larry Dominick, la junta directiva de la cuidad de Cicero y la directora del departamento de salud de Cicero, Sue Grazzini, y su personal organizaron una feria de salud de "Regreso a la escuela" el Miércoles 20 de Julio para estudiantes, familias y personas mayores en el Centro Comunitario de Cicero. 2250 sur 49 Avenida.
Los funcionarios dijeron que la feria fue "un gran éxito".
Más de 500 residentes asistieron a este programa. Los funcionarios del Departamento de Salud administraron más de 130 físicos escolares y dentales de forma gratuita.
"Todas las vacunas, incluyendo COVID19, se administraron de forma gratuita. Nos asociamos con Jewel Osco para poder vacunar a niños y adultos. El laboratorio Simple Labs proporcionó más de 100 extracciones de sangre gratuitas a los participantes. Nuestro proveedor médico hará un seguimiento de todos los resultados de los análisis de sangre", dijo Grazzini.
Esta fue la primera feria de salud patrocinada por el Departamento de Salud de Cicero desde la pandemia de Covid-19.
"Debido a la alta tasa de transmisión de Covid-19 en el condado de Cook, la Feria de Salud incluyó servicios en el patio además de servicios médicos en el Centro Comunitario. Más de 40 proveedores brindaron servicios a la comunidad que incluyeron obsequios, rifas y educación. Los Bomberos y la Policía de Cicero proporcionaron información valiosa en la feria al igual que otros departamentos de la cuidad de Cicero", dijo Grazzini.
"Estamos muy contentos con los servicios que se brindaron de forma gratuita a nuestros residentes. Quería abordar las áreas de mayor preocupación identificadas por el Departamento de Salud Pública de Illinois y brindar educación y recursos a nuestros residentes, en el la Feria de Salud. Los Centros de Salud Mental estuvieron en la Feria de Salud con recursos e información".
Grazzini agregó que el Centro Médico Loyola brindó la educación "Stop the Bleed" para educar al público sobre cómo reconocer el sangrado que amenaza la vida e intervenir de manera efectiva.
Se brindó información y educación sobre el abuso y sobredosis de opiáceos con la capacitación de Narcan. Además del entrenamiento, también se distribuyó Narcan.
"Quiero agradecer al presidente Dominick y a la Junta Directiva por su previsión al brindar la mejor atención a nuestros residentes de Cicero. Como siempre, el presidente Dominick, la Junta Directiva y el Departamento de Salud se esfuerzan diligentemente para completar nuestra misión con los residentes de Cicero", dijo Grazzini. .
El comisionado del condado de Cook, Frank Aguilar, quien trabajó en estrecha colaboración con el Departamento de Salud de Cicero y con Grazzini, calificó el evento como un gran éxito.
"Me gustaría agradecer al presidente Dominick y al director Grazzini por invitarme hoy", dijo el comisionado Aguilar.
"Brindar los servicios necesarios a las comunidades a las que servimos es esencial para apoyar a nuestros residentes. Debemos hacer todo lo posible para facilitar la vida de las familias. La combinación de servicios educativos y de capacitación que salvan vidas, junto con administración de vacunas y la distribución de útiles escolares, satisface esas necesidades de frente. ¡Gracias a todos los que asistieron hoy a este gran evento!".
El Departamento de Salud de Illinois (IDPH), Blue Cross Blue Shield, Loyola Medicine y Bell Mar Beauty School estuvieron entre las organizaciones presentes durante la feria de salud. IDPH ofreció exámenes de salud para enfermedades de transmisión sexual y HEP C, y educó a la comunidad sobre el uso de opioides, incluyendo distribución de Narcan. Blue Cross Blue Shield se asoció con Jewel para vacunar a los niños. Loyola Medicine educó a los residentes sobre cómo detener el sangrado después de un disparo u otras lesiones graves. Bell Mar Beauty School ofreció cortes de cabello y manicura gratuitos a todos los residentes interesados. Los residentes también tuvieron la oportunidad de participar en una rifa para ganar premios como televisores, juguetes, certificados de regalo y mucho más. Otros servicios incluyeron vacunas, pruebas gratuitas de detección de plomo y hemoglobina, y consejos de seguridad.