Legislators demand BNSF Railway alleviates flooding from their properties
(Spanish below)
Town President Larry Dominick and officials of Cook County and the Illinois Legislature demanded that the Burlington Northern and Santa Fe (BNSF) Railway be "held accountable for flooding problems" they have caused to neighboring residences as a result of concrete resurfacing of their properties.
At a press conference Wednesday Dec. 8, 2021 at Cicero Town Hall, State Senator Steve Landek, State Senator Antonio "Tony" Munoz, State Representative Lisa Hernandez, State Representative Michael Zalewski, Cook County Commissioner Frank Aguilar joined President Dominick in denouncing BNSF for refusing to be responsive for the problems they have caused.
Saying BNSF "is not above the law," the officials reported that many residential homes and properties, not just in Cicero but throughout the Chicagoland suburbs adjacent to BNSF properties have suffered damaged as a result of rainwater run-off from the railroad's property.
Zalewski said he introduced HB 1357 to require all railroad companies including BNSF Railway that own a minimum of 5 percent of the land in any community to adhere the Metropolitan Water Reclamation District (MWRD) Watershed Management Ordinances managing rainwater run-off.
BNSF owns more than 7 percent of the land in Cicero, officials said.
"We filed legislation in the Fall, a very simple piece of legislation, that says a parcel of property owned by the railway has to conform with the state, the county and the Water Reclamation District's drainage law, as they own 5 percent of that property," Zalewski said.
"We are blessed in Cook County and the MWRD region with a very modern drainage law, an ordinance that makes sure the water shed is being managed properly given the flooding issues that we have. We just simply want the Town of Cicero and the residents effected by flooding to be protected by this ordinance."
Zalewski noted that BNSF refuses to abide by the MWRD's Watershed Management Ordinances adding that his legislation has the support of both the Illinois House and the Illinois Senate.
"There will be a push to make the BNSF accountable for their role in rainwater flooding issues," Zalewski said.
Hernandez, a resident of Cicero for nearly 40 years, said that her home has flooded and that she has noticed increased flooding coming off of the BNSF properties including the flooding under the railroad viaduct on Austin Blvd just north of Ogden Avenue.
"We are calling on BNSF to do whatever they can to alleviate the flooding issue," Herna
ndez said.
Hernandez noted that several areas of Cicero have seen flooding as rainwater has poured off of the BNSF resurfaced properties including along 58th Court between 27th Street and 28th Streets, and the viaduct on Austin Blvd north of Ogden Avenue.
In a statement read at the press conference, Munoz vowed that BNSF will be accountable for the flooding they are causing in the Town of Cicero and in many other suburban communities adjacent to their properties.
"Over the past two decades, BNSF has irresponsibly replaced soft ground that absorbs rainwater with concrete and asphalt causing rainwater to wash off onto the properties of nearby homes and private properties causing flooding, without providing meaningful and effective safeguards," Munoz said.
"We work hard to provide programs to help homeowners deal with the flooding problem, which impacts all communities in the Chicagoland region. It doesn't help that a company like BNSF that owns so much land in many of these communities and many resources is unresponsive and uncaring, ignoring the flooding problems it is causing to its neighboring communities and homeowners."
Aguilar said Cook County is prepared to help all residents who are dealing with flooding problems, noting that acting today will help prepare the region for possible flooding in the Spring.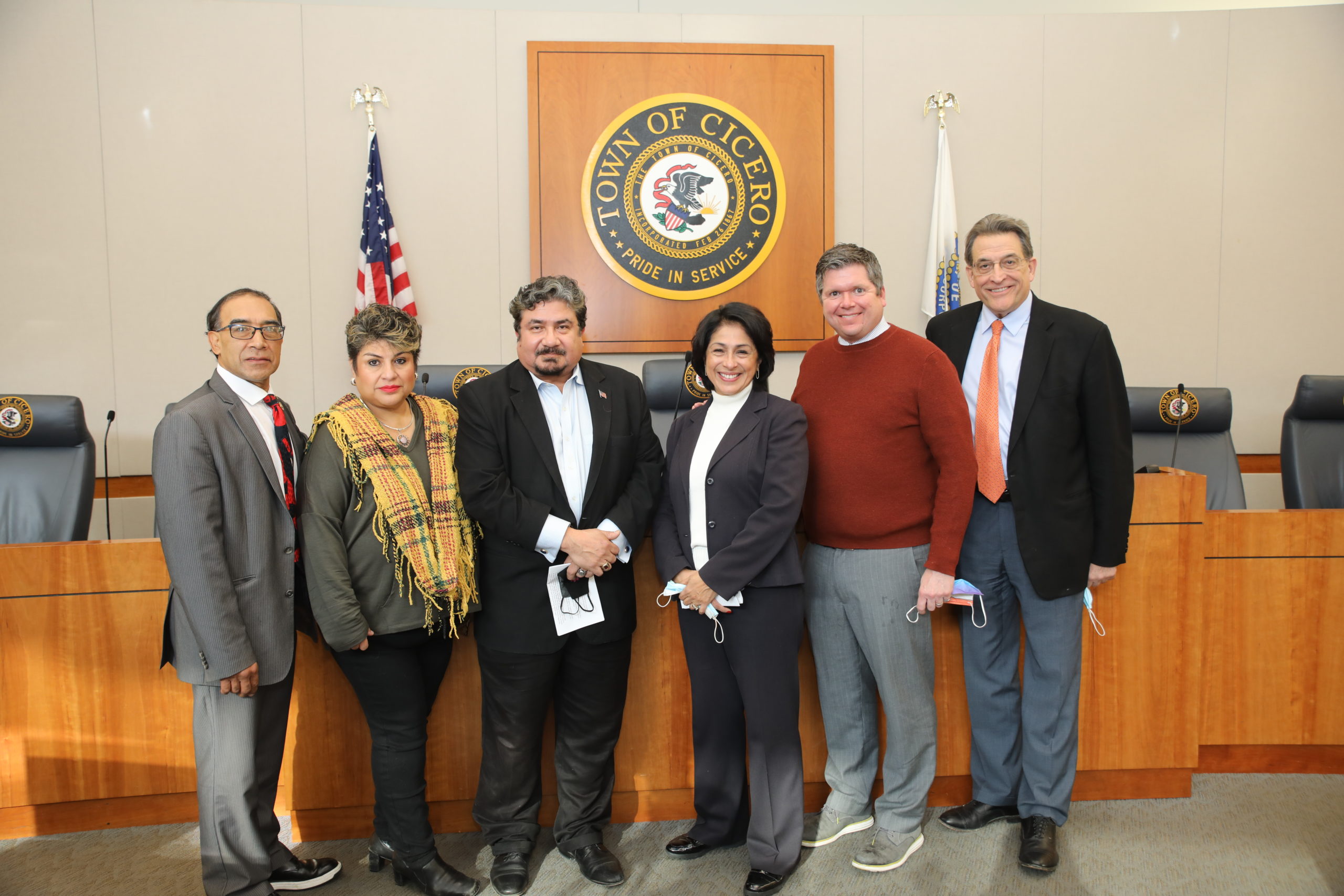 "Flooding is not only an issue in Cicero it is an issue throughout Cook County and the Burlington Northern and Santa Fe railway should be held accountable to all levels of government and especially to the citizens here," Aguilar said.
"It is a problem me and my colleagues at the county board are working on infrastructure funding to address the issue, but the lack of cooperation is making it more difficult. So to echo the words of my colleagues here, the railway should be held accountable."
President Dominick said that the Town appreciates the support the legislators and county officials, saying, "Every government and public entity, including BNSF, must be held accountable for the impact they are having on the rainwater run-off that is damaging residential homes. I appreciate all of the legislators and officials who are standing up for the rights of residents to protect their homes."
Click here to watch the video of the press conference or use the widget below to watch.
You can complain to BNSF officials by:
1 – Calling BNSF and making an anonymous complaint: 1-800-832-5452 option 4
2 – Email the BNSF Officials
Will Johnson. Chief of Police
Bryan Laurie. Assistant Chief of Police, East Corridor: Alabama, Arkansas, Georgia, Iowa, Illinois, Michigan, Minnesota, Mississippi, Missouri, Tennessee, Wisconsin
Contact them using their online form:
Please use our Contact Us form. Use of this form will help us to direct your inquiry to the right person and track the progress of our response.
Legisladores exigen que la empresa de trenes 'BNSF Railway' se responsabilice por las inundaciones en  residencias suburbanas
Cicero, Illinois – El Presidente municipal de Cicero Larry Dominick y funcionarios del condado de Cook y de la legislatura estatal de Illinois, exigieron que la empresa de ferrocarriles 'Burlington Northern and Santa Fe (BNSF)' "se responsabilice por los problemas de las inundaciones" que ha causado en muchas residencias aledañas a sus propiedades, tras la repavimentación de concreto en sus terrenos.
En una conferencia de prensa organizada en el Ayuntamiento de Cicero el miércoles 8 de diciembre del 2021, los Senadores estatales Steve Landek y Antonio "Tony" Muñoz; los  Representantes estatales Michael Zalewski y Lisa Hernández así como el Comisionado del condado de Cook Frank Aguilar, se unieron al Presidente Dominick para denunciar a 'BNSF' por negarse a responder a los problemas que ha causado.
Señalando que 'BNSF' "no está por encima de la ley", los funcionarios reportaron que muchas viviendas y propiedades privadas – no solo de Cicero sino también de diversos suburbios del área de Chicago adyacentes a las propiedades de BNSF – han resultado con serios daños estructurales causados por las correntadas de agua de lluvia provenientes de los terrenos del ferrocarril.
Zalewski señala que recientemente presentó el anteproyecto legislativo HB 1357, para exigir que todas las compañías ferroviarias, incluyendo a 'BNSF Railway', que posean un mínimo del 5 por ciento de la tierra en cualquier comunidad, se adhieran a las 'Ordenanzas del Manejo de Cuencas Hidrográficas' del Distrito Metropolitano de Recuperación y Reciclaje de Aguas (MWRD), responsable del control de las corrientes de agua de lluvia.
'BNSF' posee más del 7 por ciento de la tierra en Cicero, dijeron las autoridades.
"Presentamos un proyecto de ley en el otoño, una ley muy simple, que dice que una parcela de propiedad del ferrocarril debe cumplir con las leyes de drenaje del estado, del condado y del Distrito de Recuperación de Aguas, ya que ellos ('BSNF') poseen el 5 por ciento de esa propiedad," dijo Zalewski.
"Tenemos la bendición que en el condado de Cook y en la región administrada por el 'Distrito de Recuperación de Aguas' (MWRD) contaremos con una ley de drenaje muy moderna, una ordenanza que garantiza que el flujo de los desagües sean administrados correctamente, ante los problemas de inundaciones que tenemos en la zona. Simplemente queremos que la ciudad de Cicero y que los residentes afectados por las inundaciones, estén protegidos por esta ordenanza".
Zalewski agregó que la empresa 'BNSF' se niega a acatar las 'Ordenanzas del Manejo de Cuencas Hidrográficas' del MWRD y agregó que su proyecto de legislación cuenta con el apoyo tanto de la Cámara de Representantes como del Senado de Illinois.
"Habrá un nuevo impulso para hacer que la empresa BNSF se responsabilice por su papel en los problemas causados por las inundaciones de agua de lluvia", dijo Zalewski.
Por su parte, la Representante Hernández, residente de Cicero durante casi 40 años, dijo que su casa se ha inundado (varias veces) y que ha notado un aumento en el número de las inundaciones provenientes de las propiedades de 'BNSF', incluida la inundación que ocurre debajo del viaducto del ferrocarril ubicado en la vía Austin Blvd, al norte de la avenida Ogden.
"Hacemos un llamado a 'BNSF' para que haga todo lo posible por aliviar el problema de las inundaciones", dijo Hernández.
Hernández señaló que varias áreas de Cicero han sufrido inundaciones debido al agua de lluvia que fluye desde las propiedades repavimentadas de la empresa 'BNSF', incluyendo el tramo de la vía 58th Court entre las calles 27th Street y 28th Street y bajo el mencionado viaducto de la vía Austin Blvd, al norte de la avenida Ogden.
En un comunicado leído durante la conferencia de prensa, el Senador Muñoz prometió que la empresa 'BNSF' será responsabilizada por las inundaciones que sigue causando en la ciudad de Cicero y en muchas otras comunidades suburbanas adyacentes a sus propiedades ferroviarias.
"En las últimas dos décadas, 'BNSF' ha reemplazado de manera irresponsable el suelo blando que absorbe el agua de lluvia, con asfalto y concreto, lo que hace que el agua de lluvia se filtre a las propiedades de las casas cercanas y a los terrenos privados aledaños causando inundaciones, sin brindar ninguna clase de resguardos ni protecciones significativas y efectivas", añadió Muñoz.
"Trabajamos muy duro para ofrecer programas que ayudan a los propietarios a lidiar con el problema de las inundaciones, que siguen afectando a todas las comunidades del área de Chicago," enfatizó el legislador. "No ayuda en nada que una empresa como 'BNSF', que posee tanta tierra en muchas de estas comunidades y que tiene muchos recursos, no responda. Que se muestre indiferente e ignore los problemas que estas inundaciones están causando a los propietarios en esas comunidades aledañas".
Entre tanto, el Comisionado condal Frank Aguilar dijo que el condado de Cook está preparado para ayudar a todos los residentes que están sufriendo por las inundaciones y señaló que actuar hoy, ayudará asimismo a preparar a la región frente a las posibles inundaciones en la primavera.
"Las inundaciones no son solo un problema en Cicero, son un problema en todo el condado de Cook y el ferrocarril Burlington Northern y Santa Fe debe rendir cuentas a todos los niveles de gobierno y especialmente a los ciudadanos que viven aquí", dijo Aguilar.
"Es un problema en el que mis colegas y yo en la Junta del Condado estamos trabajando, buscando la forma de lograr la financiación de la infraestructura para abordarlo, pero la falta de cooperación hace nuestra labor más difícil. Por lo tanto, hago eco de las palabras de mis colegas reunidos aquí hoy, el ferrocarril debe rendir cuentas. "
El Presidente Dominick finalizó diciendo que todo el pueblo agradece el apoyo de los legisladores y de los funcionarios del condado. "Todo gobierno y entidad pública, incluida la 'BNSF', deben ser responsables por el impacto de los desbordes torrenciales de agua de lluvia, que están dañando las viviendas residenciales. Agradecemos a todos los legisladores y a los funcionarios que defienden los derechos de los residentes, que buscan proteger sus hogares".   FIN