FEMA offers assistance to Seniors at Cicero Senior Center
FEMA is opening an Individual Assistance Center at the Cicero Senior Center to assist seniors in applying for post-flood damage support and to also receive help completing flood Disaster Application forms online.
The FEMA Individual Assistance Center will be open on Wednesday, Sept. 6, and on Thursday, Sept 7 from 8 AM until 8 PM at the Senior Center, located at 5631 West 35th Street.
Seniors can apply in person for Individual Assistance and also for loans from the U.S. Small Business Administration (SBA)
"The Town of Cicero Senior Center is partnering with FEMA to make this service available to our senior citizens who need individual assistance," said Senior Director Diana Dominick.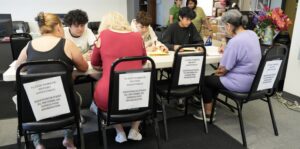 "Seniors should contact the center to make reservations as soon as possible."
Mrs. Dominick asked seniors seeking Individual Assistance or SBA loans to contact the Senior Center at 708-222-8690 to reserve their spot.
Seniors who have already applied tp FEMA but have been denied FEMA assistance can also appeal the denials at the Senior Center, Mrs. Dominick said.
The Senior Assistance program is a continuing part of the Town of Cicero's efforts to assist residents who experienced flood damage during the July flooding.
For more information on applying for FEMA flood assistance, visit the Town of Cicero website at www.TownofCicero.com.
FEMA abre un Centro de Asistencia para Individuos Mayores en el Centro de Personas Mayores de Cicero
FEMA – (Agencia Federal para el Manejo de Emergencias) – está abriendo un 'Centro de Ayuda en Casos de Desastre' en el 'Centro para Adultos Mayores' de Cicero, para dar asistencia a las personas mayores de nuestra comunidad. Los interesados podrán solicitar asistencia individual como resultado de las recientes inundaciones y también podrán completar esos formularios de solicitud de desastre en línea o sea por la Internet.
El Centro estará abierto el miércoles 6 de septiembre y el jueves 7 de septiembre de 8 a. m. a las 8 p. m. en el 'Centro para Adultos Mayores' de Cicero, ubicado en el 5631 West 35th Street.
Las personas mayores pueden solicitar asistencia individual y también préstamos de la Administración de Pequeñas Empresas de EE. UU. (SBA).
"El 'Centro para los Adultos Mayores' de la ciudad de Cicero se está asociando con FEMA para que este importante servicio esté disponible para todas nuestras personas mayores que necesiten asistencia individual", dijo la Directora del centro, Diana Dominick.
"Los adultos mayores afectados por esas inundaciones, deberán ponerse en contacto con el centro para hacer una reservación lo antes posible."
De igual manera, la Sra. Dominick pidió a las personas mayores que busquen asistencia individual o préstamos de la SBA, que se comuniquen con el 'Centro para los Adultos Mayores' al 708-222-8690 para reservar su lugar.
Las personas adultos mayores que ya presentaron una solicitud pero se les negó la ayuda de FEMA, también pueden apelar esas denegaciones en el 'Centro para los Adultos Mayores', dijo la Sra. Dominick.
Para obtener más información sobre cómo solicitar ayuda por inundaciones de FEMA, visite el sitio web del Municipio de Cicero en www.TownofCicero.com.