Cook County Commissioner Frank Aguilar lists grants brought to district
Cook County Commissioner Frank Aguilar addressed the Town of Cicero Board of Trustees at their meeting on Tuesday, Feb. 28 detailing his success in bringing millions of dollars in county grants and project funding to the 16th District, which includes the Town of Cicero.
Aguilar, who was elected last November to a second term representing the 16th District of Cook County.
"I want to thank President Larry Dominick and the members of the Cicero Board of Trustees and the people of the Town of Cicero for their continued support," Aguilar said at the meeting.
"This is a list of funding that I have supported for our district including funds that will help the residents of Town of Cicero."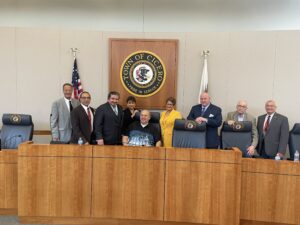 President Dominick thanked Commissioner Aguilar for his continued support.
Aguilar listed his achievements during the presentation as follows:
Brought over $3 million to the 16th District in Gun Violence Reduction grants.
Brought funding for returning citizens for rental assistance and re-entry services.
Brought climate plan funding the form of grants to 16hth District municipalities like Cicero, to improve resiliency, including addressing flooding.
Cast multiple votes to support transportation and infrastructure funding to the 16th District to improve street safety, flooding, traffic and more.
Collaborated with federal, state and local municipal offices to provide healthcare options and information, rental assistance for tenants and landlords, assistance to businesses and help for the unemployed.
Set-up COVID testing and vaccine facilities and distributed PPE to the district.
Assisted residents with the Cook County Emergency Rental Assistance program. Hosted monthly Town Halls to discuss with residents pressing issues.
Supported the approval of $42,882,464 in ARPA Funding, and $940,000 in Back-to-Business funding for the county. Delivered more than $100 million in ARPA funding and over $10 million in Back-to-Business funding to the 16th District.
Partnered with the Sheriff's office for safety training (carjacking prevention) and information sessions.
Partnered with the Board of Review and Assessors office to hold property tax appeal seminars and get information and access to residents to keep their taxes as low as possible.
Secured $11.4 million for a helicopter purchase for the Sheriff's Department to be used in carjacking rescues and other emergency services.