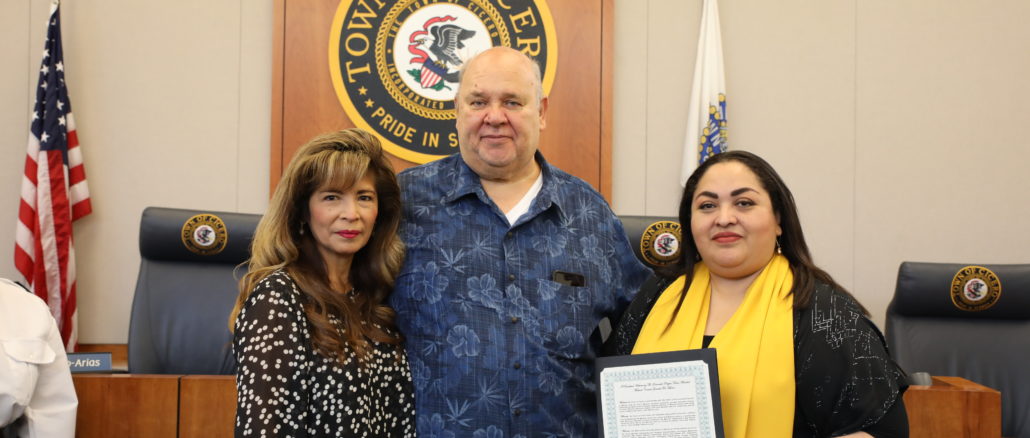 By Alejandra Herrera
Just in time for the Mexican Independence Day festival, Cicero welcomed Chicago's new Consul General of Mexico Reyna Torres Mendivil.
Maru Ayala, executive director for the Cicero Mexican Cultural Committee, presented Torres Mendivil to the Town Board during the August 27 meeting. She said the Consul General took office on July 14. Her previous post was Consul General for San Antonio and she arrived in Chicago as a part of a shift in Mexico's delegate officials by Mexican President Andrés Manuel López Obrador.
"I am honored to be in Cicero for many reasons, especially because we have a historic relationship with this town," Torres Mendivil said. "I am delighted to be here in a city were Mexicans are welcomed, where they are valued, and where our community can flourish. I appreciate that very much, and I want to thank all of you for that. This opportunity is relevant for the consulate as we renew our commitment to provide services to our nationals. But also we are in duty of passing the message of what Mexico is about, what our culture is about."
Torres Mendivil is the first female to occupy the Chicago post. She received a warm welcome from the Town Board, including Town President Larry Dominick and Clerk Maria Punzo-Arias, Supervisor Joe Virruso, Assessor Emilio "Emo" Cundari, Collector Fran Reitz, and trustees Victor Garcia, Larry Banks, Bob Porod, and John Cava. After the meeting, town officials hosted a catered reception in the Town Hall lobby, where guests were able to congratulate her personally. It did not take long before Torres Mendivil spoke about what she was looking forward to in Cicero.
"Of course, I am looking forward to El Grito. I understand that it is a big tradition here. It is one of the largest Gritos that we have in the US, so I am looking forward to that," she said.