Cicero Senior Center takes excursion to Peach Picking orchard 
The Cicero Senior Center organized a tour of the Apple Holler Farm in Wisconsin recently to allow seniors and members of the Center to enjoy a day-long visit and the launch of the farm's annual "Peach Picking" season.
Seniors were given transportation in a comfortable air-conditioned bus to the Apple Holler Farm.
The excursion included lunch at the Apple Holler Restaurant, a tour of the property, shopping locally and visits to the bakery, country store, gift shop, as well as enjoying the farm's sleigh rides. I
"It's an incredible feeling and it brings much satisfaction to see our seniors outdoors and enjoying the fresh air and the view of nature," said Senior Center Director Diana Dominick.
"For many seniors, this was their first time taking a trip like this."
The Flannery family began harvesting apples at their 78 acre orchard more than 30 years ago and each summer brings guests to enjoy the property and its many assets.
For more information on Senior Center excursions please contact the Senior Center, 5631 West 35th Street.
El 'Centro para los Adultos Mayores de Cicero' organiza una divertida excursión a un huerto de Wisconsin
El 'Centro para los Adultos Mayores de Cicero' organizó recientemente un recorrido por la granja 'Apple Holler Farm' de Wisconsin, para que las personas mayores de edad miembros del Centro, disfrutaran de una entretenida visita al inicio de la temporada anual de la famosa "Recolección de Duraznos" establecida por la granja.  Fue todo un día de diversión y alegría.
Nuestros adultos mayores recibieron transporte en un cómodo autobús con aire acondicionado hasta la granja 'Apple Holler Farm'.
La excursión incluyó un exquisito almuerzo en el Restaurante 'Apple Holler' y un recorrido por la propiedad. Los participantes se fueron de compras por los comercios locales además de  visitar la panadería del área; pudieron curiosear en una tienda campestre y en otra de recuerdos y regalos. Disfrutaron  además de los paseos en trineo que la finca ofrece.
"Es una sensación increíble y nos trae mucha satisfacción ver que nuestros adultos mayores puedan caminar al aire libre y también puedan disfrutar del aire fresco y de la vista de la naturaleza", dijo Diana Dominick, directora del 'Centro para Personas Adultos Mayores'.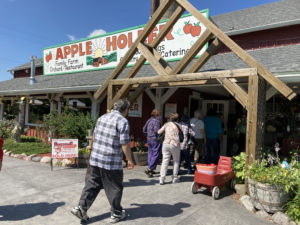 "Para muchas personas mayores, esta era la primera vez que hacían un viaje como este", agregó la directora Dominick.
La familia Flannery – dueña de la granja – comenzó a cosechar manzanas en su huerto de 78 acres hace más de 30 años y cada verano trae invitados para que puedan disfrutar de la propiedad y de sus muchos atractivos.
Para obtener más información sobre las excursiones del 'Centro para Personas Adultos Mayores de Cicero', comuníquese con ese Centro, ubicado en el 5631 West 35th Street.