Cicero Senior Center secures motorized wheelchairs to assist members
The Town of Cicero Senior Center, working with Town President Larry Dominick and Trustee Blanca Vargas were able to secure and donate several motorized wheelchairs to residents who were in need of assistance.
Among the recipients were:
Agustin Garcia, Manuel Lopez, Guillermina Lopez. Esperanza Diaz, Luisa Maturino, and Evelia Briceno.
"We are very happy to be able to provide these motorized wheel chairs to members of our Senior Citizen community who need mobility assistance," said Senior Director Diana Dominick.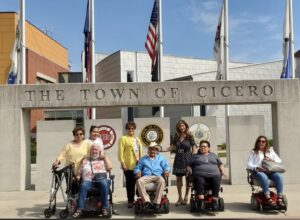 "They are very grateful to the Town for securing the motorized wheel chairs and will help ease their mobility in the community."
Trustee Blanca Vargas who worked to secure the wheel chair donations, added, "These motorized wheel chairs are so important to ensure that all of our seniors enjoy the fullness of their lives and to enjoy the many events that the Senior Center and the Town host for seniors and families this summer."
El Centro para personas mayores del Municipio de Cicero, en colaboración con el presidente del Municipio, Larry Dominick, y la síndica Blanca Vargas, pudieron asegurar y donar varias sillas de ruedas motorizadas a los residentes que necesitaban asistencia.
Entre los destinatarios se encontraban: 
Agustín García, Manuel López, Guillermina López. Esperanza Díaz, Luisa Maturino y Evelia Briceño.
"Estamos muy contentos de poder proporcionar estas sillas de ruedas motorizadas a los miembros de nuestra comunidad de personas mayores que necesitan asistencia para la movilidad", dijo la directora del centro para personas mayores Diana Dominick.
"Están muy agradecidos con el municipio por asegurar las sillas de ruedas motorizadas y ayudarán a facilitar su movilidad en la comunidad".
La síndica Blanca Vargas, quien trabajó para asegurar las donaciones de sillas de ruedas, agregó: "Estas sillas de ruedas motorizadas son muy importantes para garantizar que todos nuestros adultos mayores disfruten de la plenitud de sus vidas y disfruten de los muchos eventos que el Centro para Personas Mayores y el Municipio organizan para personas mayores y familias este verano".