Cicero Senior Center hosts annual Hearts & Shamrocks dance
Town President Larry Dominick, the Town of Cicero Board and the Town of Cicero Senior Center hosted the annual Hearts & Shamrocks dinner and dance on Thursday, March 23, where seniors enjoyed an evening of music and entertainment.
The popular dinner dance attracted nearly 400 seniors along with Town officials and Senior Center staff who escorted seniors and provided gifts at the event at the Cicero Community Center.
The entertainment was provided by Rosie and the Rivets who performed popular hits from the 50s and 60s as seniors filled the dance floor to enjoy the music.
"This is always one of the most popular events that Seniors look forward to and that they enjoy so much," said President Dominick.
"The food, the music and all of the entertainment was first class and a big thank you goes out to the staff of the Cicero Senior Center that organized it all."
The meal was served by volunteers from Morton High School District 201 and from the town. Residents showed up in a dual holiday spirit, with many wearing red outfits while adorning green hats celebrating St. Patrick's Day and also readying for the upcoming Easter holidays.
"This event is very popular in part because the Winter, even as mild as it was this year, discourages a lot of seniors from being outdoors, other than attending Senior Center events," said Senior Director Diana Dominick.
"The Hearts and Shamrocks dinner dance gives us all the feeling that Spring is nearly here and we can look forward to a very active year of programs and more events."
The Hearts & Shamrocks event is one of many programs the Town of Cicero Senior Center hosts throughout the year. Mrs. Dominick reminded senior residents who are 62 years of age or older to visit the Senior Center at 5631 W. 35th Street, or to call 708-222-8690 to learn about upcoming events, trips and programs for the senior community.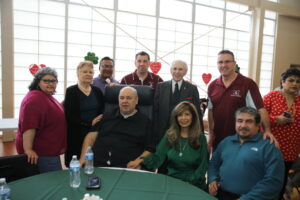 "Whether that's here at the Community Center, at the Senior Activities Center, or on the road touring Lake Geneva, attending a theatrical performance or other events, we always have a fun time together and doing something exciting," Mrs. Dominick said.
Also attending the luncheon were Cook County Commissioner Frank Aguilar, Clerk Maria Punzo-Arias, Assessor Emilio Cundari, Trustees Blanca Vargas, officials from High School District 201 including Board President Jeffry Pesek, and former Assessor John Kociolko.
Every attendee was given a gift bag from President Dominick and Senior Center Director Diana Dominick.
(Click here to watch a video report on the Hearts and Shamrocks luncheon on Channel 6 Cicero TV)
El 'Centro para los Adultos Mayores' de Cicero organiza el baile anual de 'Los Tréboles y Corazones'
 El Presidente municipal de Cicero Larry Dominick, la Junta de Síndicos y el 'Centro para los Adultos Mayores' organizaron la cena y baile anual 'Tréboles y Corazones / Hearts & Shamrocks' el jueves 23 de marzo, para que las personas de la tercera edad pudieran gozar de una noche especial con mucha música y entretenimiento.
La popular cena con baile atrajo a casi 400 personas que se divirtieron junto a los funcionarios electos. El personal 'Centro para los Adultos Mayores' acompañaron a las personas mayores y les entregaron obsequios durante el evento realizado en el 'Centro Comunitario de Cicero'.
El entretenimiento estuvo a cargo del grupo 'Rosie and the Rivets', que interpretó los éxitos más populares de los años 50 'sy 60' s, mientras los asistentes llenaban la pista de baile para disfrutar de la música.
"Este es uno de los eventos más populares que las personas mayores de edad tanto esperan y que tanto disfrutan", dijo el Presidente Dominick.
"La comida, la música y todo el entretenimiento fue de primera clase y envío mi más profundo agradecimiento para todo el personal del 'Centro para los Adultos Mayores' que anualmente organiza esta fiesta tan bonita e inolvidable", agregó el Presidente Dominick.
La comida fue servida por voluntarios del 'Distrito Escolar 201 Morton High', del 'Distrito Escolar 99', del 'Comité de Adultos Mayores' y de los departamentos municipales de Cicero. Los residentes se presentaron con espíritu festivo, muchos vistiendo trajes rojos y verdes celebrando el tradicional 'Día de San Patricio' y también como preparándose para las próximas fiestas dedicadas a la 'Semana Santa'.
"Este evento es muy popular en parte porque el invierno, aunque no fue tan tan frío este año, es algo  que desalienta a muchas personas mayores a salir al aire libre, aparte de asistir a los eventos usuales en el Centro para los Adultos  Mayores", dijo la Directora de ese centro, Diana Dominick.
"La cena-baile 'Tréboles y Corazones' o como lo llaman en Inglés 'Hearts and Shamrocks', nos trae la sensación de que la primavera está cerca y anticipamos ansiosamente un año muy activo con muchos programas divertidos y más eventos", agregó la Directora Dominick.
El evento 'Tréboles y Corazones' es solo uno de los muchos eventos que el 'Centro para los Adultos Mayores' presenta durante todo el año para nuestros residentes en Cicero.
La Sra. Dominick también recordó a los residentes mayores de 62 de años de edad, que visiten el 'Centro para los Adultos Mayores' ubicado en el 5631 W. 35th Street, o que llamen al área 708-222-8690 para enterarse sobre los próximos eventos, viajes y excursiones que constantemente son planeados, así como también sobre los diversos programas para nuestra comunidad de adultos mayores.
"Ya sea aquí en el 'Centro Comunitario' de Cicero, sea en el 'Centro para los Adultos Mayores', sea saliendo a pasear por el lago 'Lake Geneva', sea asistiendo a una representación teatral o  sea que vayamos de excursión a otros lugares o eventos, siempre nos divertiremos juntos y haremos algo emocionante", dijo la Sra. Dominick.