Cicero Police Chief Jerry Chlada, Jr., retires, celebrated by Town of Cicero Board August 23, 2022
Celebrated CIcero Police Chief Jerry Chlada Jr., was honored by the Town of Cicero at its board meeting on Tuesday August 23, 2022 after announcing he would be retiring at the end of the month. (See video of board meeting below.)
Chlada thanked the board and the community for "the honor of serving you" and making Cicero one of the safest communities in America.
"Thank you for this honor. There is so much I want to say right now and so may people I want to thank," Chlada began.
"I am just a kid who was born and raised in Cicero. Yesterday I was picking up garbage in Public Works and today I am retiring as Superintendent of Police. I truly gave this department, this town and its citizens everything that I had and I truly hope that the department is a much better place today than it was 8 years ago when I took control of it."
Chlada received a standing ovation from Cicero Town President Larry Dominick and all of the Town Board members.
"Jerry is like the son I have known since he was born. He was always a hard worker which is why I made him police chief," President Dominick said. "I thank you for all of your hard work Jerry."
Trustee Bob Porod congratulated Chlada saying, "We all wish you well."
Trustee Blanca Vargas added, "I have known Jerry since he was first on the police force protecting our citizens in Cicero. Every time I called you, Jerry, you were there. Thank you very much for helping this town make it safer."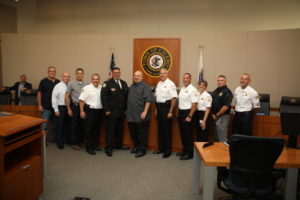 RESOLUTION THANKING JERRY CHLADA Jr., FOR HIS SERVICE AS CICERO POLICE SUPERINTENDENT
WHEREAS Jerry Chlada Jr., joined the Cicero Police Department in 1996 as a Patrol Officer and has served with distinction for more than 26 years; and
WHEREAS Patrol Officer Jerry Chlada Jr., dedicated himself to policing and worked his way up the ranks serving in many areas including as Commander of the Police Gang Crimes Tactical Unit in April 2000; and
WHEREAS During his command, street gang activity dropped significantly and the number of street gang related homicides dropped from 16 prior to 2005 when President Dominick was elected Town President to one street gang related homicide during his first two years as superintendent; and
WHEREAS Commander Jerry Chlada Jr., was promoted to the rank of Deputy Supt. of Gang Crimes Tactical Unit in October 2009 where he continued to confront street gangs and make the Town of Cicero a safer community; and
WHEREAS in May 2013, Deputy Superintendent Jerry Chlada Jr., was named by President Dominick and the Town of Cicero Board to serve as First Deputy Superintendent of Police; and
WHEREAS on Nov. 11, 2014, Jerry Chlada Jr., was named as the Superintendent of Police succeeding Bernard Harrison who retired and has served with distinction and honor making Cicero one of the Safest Communities in the Chicagoland suburbs; and
NOW THEREFORE BE IT RESOLVED that Town President Larry Dominick and the Town of Cicero Board of Trustees congratulate Jerry Chlada Jr., on his retirement from his position as Cicero Police Chief and applaud him for his dedicated service to all of the residents of the Town of Cicero this 23rd Day of August 2022.
Chlada announced he will be taking a position as Deputy Police Chief for the Village of Stickney.
Visit the Town of Cicero Facebook Page to view more photos by clicking this link.