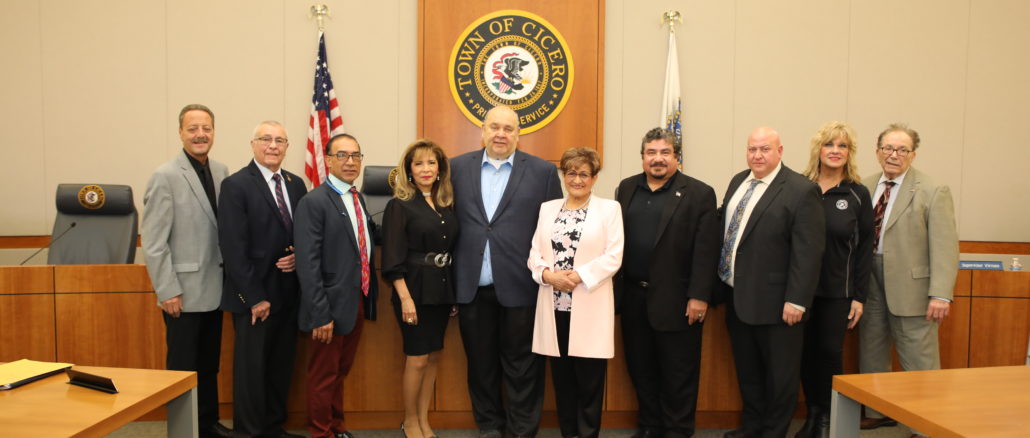 Cicero names Blanca Vargas to Board of Trustees
Town President Larry Dominick on Tuesday (March 22, 20220) named Blanca Vargas to fill the vacancy on the board of Trustees created by the passing on January 7 of former Trustee Larry Banks.
Vargas is the third Latina to serve as a Trustee. The first was Josephine Herrera and then Maria Punzo-Arias who was appointed the first Latina Town Clerk in 2011. Joined by her two daughters Sarah and Bianca, Vargas thanked President Dominick and the board members after the board voted unanimously to approve the nomination.
"I am overwhelmed by my appointment as Cicero Town Trustee, and the trust you have placed in me," Vargas told the board after her nomination was approved.
"You can be assured that I will do my best to serve our community of Cicero and help the Town Directors and staff. … Let us celebrate International Women's Month and recognize the three women here, First Lady Diana Dominick, Maria Punzo-Arias our Clerk and Trustee Fran Reitz."
As she expressed her gratitude, Vargas also asked the board to pause for one minute to remember Trustee Larry Banks for "his lifelong service and dedication to the Town of Cicero."
President Dominick congratulated Vargas saying, "You bring a lot of energy to the board and to the community."
Vargas first began her activism in 1972 working as a Hispanic liaison for former Governor Dan Walker and later for Governor Pat Quinn.
She was the first Hispanic woman to be elected to the position of Democratic Committeeperson in 2018, a position she stepped down from to assume her seat on the Town Board. Vargas also has worked with LULAC, The League of United Latin American Citizens, and in 2021 served as a Hispanic Liaison for the Town of Cicero until her appointment Tuesday.
Vargas offered her remarks in English and in Spanish at the board meeting.
Cicero nombra a Blanca Vargas como miembro de la Junta de Síndicos
El Presidente de Cicero Larry Dominick, nombró a Blanca Vargas el pasado martes (22 de marzo del 2022) para llenar la vacante dejada en la Junta Directiva el 7 de enero, por el fallecimiento del síndico Larry Banks.
Vargas es la tercera latina en servir como síndico. La primera fue Josephine Herrera y luego la señora María Punzo-Arias quien, posteriormente en el año 2011, fue nombrada como la primera secretaria municipal latina.
Junto con sus dos hijas, Sarah y Bianca, Vargas agradeció al Presidente Dominick y a los miembros de la junta después de que ese consejo votara unánimemente para aprobar la nominación.
"Estoy muy emocionada por mi nombramiento como Síndico Municipal de Cicero y por la confianza que han depositado en mí", dijo Vargas a la junta luego de la aprobación.
"Pueden estar seguros de que haré todo lo posible para servir a nuestra comunidad de Cicero y ayudar a todos los directores departamentales municipales y a su personal… Celebremos el 'Mes Internacional de la Mujer' y entreguemos un merecido reconocimiento a las tres mujeres que sirven en este municipio, a la Primera Dama Diana Dominick, a nuestra Secretaria Municipal Maria Punzo-Arias y a nuestra Síndica y también Recolectora Fran Reitz".
De igual manera, mientras expresaba su gratitud, Vargas pidió a la Junta Directiva que hiciera una pausa de un minuto para recordar al síndico Larry Banks por "su servicio y dedicación de por vida al Municipio de Cicero".
El Presidente Dominick felicitó a Vargas diciendo: "Usted aporta mucha energía a la junta y a la comunidad".
Vargas comenzó su activismo en el año 1972 trabajando para el ex gobernador Dan Walker como enlace hispano y luego para el ex gobernador Pat Quinn. Fue la primera mujer hispana en ser elegida para el cargo de miembro del Comité Demócrata en el año 2018, cargo al que renunció para asumir su puesto en la Junta Municipal.
Vargas también ha trabajado con 'LULAC', la Liga de Ciudadanos Latinoamericanos Unidos. En el 2021 inició su labor como enlace hispano para el municipio de Cicero, hasta su nombramiento a la nueva posición el martes pasado.
Vargas ofreció sus comentarios en inglés y en español durante la reunión de la Junta Directiva.
Click this link to watch the video or use the widget below: