Cicero hosts post-flood relief event with Red Cross
Town President Larry Dominick and the Town of Cicero board of Trustees partnered with the American Red Cross to host a post-Flood support event to help residents who suffered flooding during record rains that slammed Cicero and surrounding communities.
With the help of the American Red Cross, the Town distributed more than 1,000 large containers of cleaning products, 1000 bags of family hygiene products and other items.
The effort was supported by the City of Stickney and Mayor Jeff Walik who joined President Dominick to help with the giveaways and from Berwyn, the west side of Chicago, and a dozen social service agencies including Family Focus, ICNA Relief, the Salvation Army, St. Vincent De Paul, CEDA, Catholic Charities, UCC Disaster Ministry, Convoy of Hope,
"We have a lot of people in need and the American Red Cross is always there to help the people and we thank them. We're always here for the citizens of the Town and I know we were hit with a disaster. It's nobody's fault, but we have to realize when people need something we have to help them and that's why I'm happy to be here today," said President Dominick who helped hand out the post-flood care packages along with Clerk Maria Punzo-Arias, Supervisor Joe Virruso, Assessor Emilio "Emo" Cundari, Collector Fran Reitz, and Trustees Victor Garcia, Bob Porod, John Cava and Blanca Vargas.
"There's so much we offer to our residents. We are increasing the town's contribution for flood control devices, for example. It used to be $1,500 but after the recent board meeting, we'll increase it to $2,000 to help residents to buy the flood control devices."
Dominick said all of the Town's agencies and departments were represented and provided support to residents at the event including the Cicero Senior Center, Senior Services, Building Department, Water Department, Health Department, the Community Mental Health Board and the Cicero Police Department and Fire Department.
Support was also provided by Berwyn's Department of Human Services, the Village of Stickney, the Illinois Department of Insurance, and "Danny the Groomer" who provided "Care Dogs" to assist residents who continue to experience post-flood trauma.
A contingent of volunteers from "Team Rubicon" and the United Methodist Church, which specialize in helping clear and clean homes damaged by flooding, coordinated service schedules through Senior Director Diana Dominick and the Senior Center.
Red Cross External Relations Manager Joy Medrano thanked Cicero for hosting the event and providing areas for social service agencies to detail the services they offer to residents.
"With the Town of Cicero, we are providing cleanup kits and cleaning supplies for the residents as well as information on mental health support," Medrano explained.
"We've partnered with the Northeast Illinois community organizations Active and Disaster, in which the Red Cross is a partner. They're a group of nonprofit and community partners that come together to serve the community in times of disaster. So some of our partners that are here are CEDA, Vincent DePaul, Catholic Charities and then some state organizations like the Department of Insurance and the Department of Human Service. So us coming together we want to provide holistic care for those who are then in recovery."
Medrano also thanked Cook County Emergency Management for their support and other officials who joined to help in the distribution.
"We have worked with many communities in situations like this and I want to say the Town of Cicero came through and provided so many resources to make this happen," Medrano told town officials.
President Dominick said residents can purchase one system that merely stops back flow, or they can also purchase an ejector pump and the Town's contribution can go to either purchase.
"We're also going to form a committee to look into installing more home water barrels and research options to help mitigate flooding like installing 'green alleys,' for example," Dominick said.
"The Metropolitan Water Reclamation District picks up half the tab and we pay for the other half. There is just a lot of work to do. So, we're here. We are doing our best and we have been doing it non-stop since the flooding began.""
Also attending and helping in the distribution were Cook County Commissioner Frank Aguilar. The event featured two dozen tents, a coordinated processing system for residents to expedite support and providing bottled water to residents under the supervision of Cicero Department of Special Events Director Patti Salerno.
The Red Cross event followed by days a public hearing hosted by the Town of Cicero and the Metropolitan Water Reclamation District (MWRD) held at Morton College to help residents understand how the record rainfall caused so much damage.
MWRD President Kari Steele was joined by her board of trustees and MWRD engineers and specialists, who shared information about the MWRD reservoir network, the Deep Tunnel, daily weather monitoring, Overflow Action Days, Green and Gray infrastructure projects and much more to encourage all supporting agencies to collaborate and assist those impacted by the July 2 rainstorm Also attending were officials of FEMA, State Rep. Lisa Hernandez, State Rep. Abdelnasser Rashid, State Senator Michael Porfirio, and other regional partners.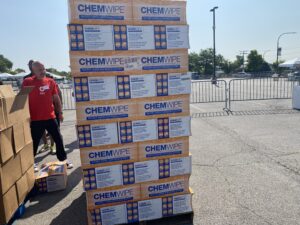 View more photos on our Facebook Page.