Cicero Commemorates Pulaski Day with Notable Guest Appellate Court Justice Aurelia Pucinski
Watch video link and video of the event below
Cicero Commemorated Pulaski Day on Wednesday March 8th at the Cicero Community Center. The event started promptly at 11am. "We are always proud to have these events looking at culture, ethnicity and history," said Cicero Spokesman Ray Hanania. President Larry Dominick proudly celebrates all the different ethnic communities in the Town of Cicero.
Hanania introduced Cicero Chaplain Ismael Vargas. Vargas asked everyone to please rise to Thank God for the opportunity to come together and celebrate. Vargas proceeded to pray. Once the enlightening prayer concluded Hanania introduced Anthony Grazzini, the Director of Grants and Accountability for Cicero District 99, who was the MC for the event.
"First of all, I would like to thank Town President Larry Dominick for having these convocations every month. We're really excited to share the culture and heritage of Cicero and also learn a little bit about the history of our country and the people who made our country pretty powerful," said Grazzini.
"We are excited today for bringing Aurelia Pucinski our appellate Court Judge who is really well known in Cicero. She has been a friend to our community for a long time. From the beginnings of the Houby Day Parade. She served as a teacher then she went to law school and became a lawyer and worked against the Chicago Public Schools to improve education outcomes for the children of Chicago. She has had that kind of fight in her, her whole life," stated Grazzini.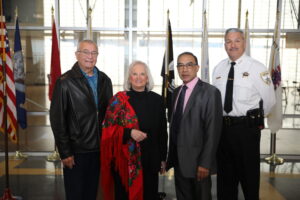 "I am very happy to be an elected Justice of the Appellate Court," said Pucinski. She was elected in 2010. Pucinski has also served as a Circuit Court Judge in Cook County and as a Clerk of the Circuit Court.
Before Justice Pucinski delivered her remarks she talked to the students present asking them if they wanted to be lawyers. Encouraging them to study law and ultimately run to be Judges.
"I would like to start by pointing out that I am well aware that Cicero, a wonderful Town, is really a beautiful blend of different ethnic groups. It has been forever and it will remain so I'm sure. But each person in any ethnic group in Cicero has that immigrant experience somewhere in their family history. And that immigrant experience takes above all courage and that is one of the reasons we celebrate Casimir Pulaski. Not only to celebrate the way he lived but also to respect the way he died," said Justice Pucinski.
"What really makes us admire Pulaski is his fierce commitment to freedom and independence," stated Justice Pucinski. "Pulaski did not have to take up the fight for independence in America. He was a soldier and he knew how to fight. We are blessed that he chose to use those skills to secure for us the freedom and independence we have today," added Justice Pucinski.
In addition, she said, "we honor Pulaski today with a special ceremony. But let us honor him every day by our own commitment to making the choice to be active for our ideals, to stand up for the rights of every person, and to never, ever, let anyone marginalize us."
At the end of her remarks Justice Pucinski was kind enough to answer any questions.
"What would you like your legacy to be?" asked Natalie Diaz a student from Lincoln Elementary.
Justice Pucinski smiled and thanked Diaz for asking.
"I would like my legacy to be something that I teach my children and I teach my grandchildren: to have a good moral compass. Understand what is right and what is wrong. Let what's right guide you. Even if it's difficult. Sometimes it takes a long time to correct a wrong. Sometimes it takes energy to correct a wrong. Sometimes is seems like it cannot be done," said Justice Pucinski. 
In addition, "be respectful, be well educated, well prepared and just like any lawyer would tell you and certainly any judge know both side of the issues. Know the other side as well as you know your own because the other side is fighting for its belief and you have to be fighting for yours. And the only way that you can do that is understand were the other side is coming from because if you do that you may be able to find some room for compromise. You may be able to find out that you don't disagree about everything just disagree about somethings. And that you can agree on the other things and that moves the process forward,"stated Justice Pucinski.
"So have a good moral compass, decide for yourself what is right and wrong and always stand up for what's right," said Justice Pucinski.
Justice Pucinski gave great advice to the students she told them, "study hard, learn stuff, whatever it is learn stuff, learn stuff everyday. I learn something everyday". "Learn something from every experience that you have," she said.
Furthermore, Justice Pucinski said, "be an informed voter. Pay attention to what's going on in your community. Broadened your horizons".
Once Justice Puncinski answered a few more questions she received a great applause from those present. Grazzini asked to please give Justice Pucinksi "one big Cicero applause". 
Right before Justice Pucinski had to head back to work she posed for pictures with Town Officials and students. 
Students from District 99 had a special presentation for everyone.
Ms. Koser's National Elementary Honors Society 5th and 6th grade students from Lincoln School took to the podium one by one. Each student shared significant facts about Casimir Pulaski.
"Casimir Pulaski was a Polish Soldier who fought for the US during the Revolutionary war," said Diaz.
"He has often been referred to as the Founder of the American Calvary because he was such a good horseman and strategist," said Minda Huynh.
"Pulaski was born in Warsaw, Poland on March 6, 1745," said Alex Delgado.
"Pulaski came to America in 1777 because Ben Franklin had told George Washington how wonderful he was as a horseman and a strategists," said Kathy Suarez.
"He became a General of the Continental Army and created the American Calvary," said Gaby De La Torre.
"He died at the battle of Savannah while leading the fight against the British. He died on October 11, 1779," said Chris Bedolla.
"Today Casimir Pulaski Day is celebrated mainly in areas with large polish populations including Chicago," said Luke Bencosme.
"Illinois created a law on September 13, 1977 to celebrate the birthday of Casimir Pulaski and held the first official Pulaski Day celebration on 1978," said Matthew Martinez-Flores.
In addition to that presentation from District 99 students another student, a Morton East High School student, was ready to share her speech with everyone. 
"Pulaski Day is important because it allows people to reflect on the sacrifices and contributions of Pulaski and other Polish Americans who have made important contributions to American Society," said Itzel Camargo. She added, "today there are over one million people of Polish decent living in Illinois making it one of the largest polish population in the world outside of Poland itself". Camargo finished her speech saying, "it is also an opportunity to educate others about the important role immigrants have played in building the United States and to promote greater understanding of the contributions of immigrants to American society".
After such great remarks from Justice Pucinski, followed by such an amazing presentation brought together by the students from Lincoln Elementary and then the speech from Camargo everyone was ready for lunch.
Lunch was served and everyone sat down to enjoy their meal. 
Pulaski Day is observed the first Monday of March
This year the first Monday happened to be March 6th  _  Pulaski's actually birthday
Pulaski Road, named after Casimir Pulaski, in Chicago is located roughly one mile from Cicero Avenue
Schools in the Town of Cicero are closed on Pulaski Day
There are seven counties in the United States named after Pulaski
One of those seven counties is right here in Illinois – Pulaski County, Illinois
Also there is a village in Illinois named after Pulaski
Pulaski Village in Pulaski County, Illinois
Cicero conmemora el Día de Pulaski con una destacada invitada Juez de la Corte de Apelaciones Aurelia Pucinski
Cicero conmemoró el Día de Pulaski el miércoles 8 de marzo en el Centro Comunitario de Cicero. El evento comenzó puntualmente a las 11 am. "Siempre estamos orgullosos de tener estos eventos que analizan la cultura, el origen étnico y la historia", dijo Ray Hanania, portavoz de Cicero. El presidente Larry Dominick celebra con orgullo todas las diferentes comunidades étnicas en el Municipio de Cicero.
Hanania presentó al Capellán de Cicero Ismael Vargas. Vargas pidió a todos que por favor se pusieran de pie para dar gracias a Dios por la oportunidad de unirnos y celebrar. Vargas procedió a orar. Una vez que concluyó la oración esclarecedora, Hanania presentó a Anthony Grazzini, el Director de Subvenciones y Responsabilidad del Distrito 99 de Cicero, quien fue el MC del evento.
"En primer lugar, me gustaría agradecer al presidente del Municipio, Larry Dominick, por tener estas convocatorias todos los meses. Estamos muy emocionados de compartir la cultura y la herencia de Cicero y también aprender un poco sobre la historia de nuestro país y las personas que hicieron que nuestro país fuera bastante poderoso", dijo Grazzini. "Estamos emocionados hoy por traer a Aurelia Pucinski, nuestra jueza de la corte de apelaciones, quien es muy conocida en Cicero. Ha sido amiga de nuestra comunidad durante mucho tiempo. Desde los comienzos del Desfile del Día de Houby. Se desempeñó como maestra y luego fue a la facultad de derecho y se convirtió en abogada y trabajó en contra de las Escuelas Públicas de Chicago para mejorar los resultados educativos de los niños de Chicago. Ella ha tenido ese tipo de lucha en ella, toda su vida ", declaró Grazzini.
"Estoy muy feliz de ser un juez electo de la Corte de Apelaciones", dijo Pucinski. Fue elegida en 2010. Pucinski también se desempeñó como jueza del tribunal de circuito en el condado de Cook y como secretaria del tribunal de circuito.
Antes de que la jueza Pucinski pronunciara sus comentarios, habló con los estudiantes presentes y les preguntó si querían ser abogados. Animándolos a estudiar derecho y finalmente postularse para ser jueces.
"Me gustaría comenzar señalando que soy muy consciente de que Cicero, un Municipio maravilloso, es realmente una hermosa mezcla de diferentes grupos étnicos. Ha sido para siempre y seguirá siendo, así que estoy segura. Pero cada persona en cualquier grupo étnico en Cicero tiene esa experiencia de inmigrante en algún lugar de su historia familiar. Y esa experiencia inmigrante requiere sobre todo coraje y esa es una de las razones por las que celebramos a Casimir Pulaski. No solo para celebrar la forma en que vivió, sino también para respetar la forma en que murió", dijo la juez Pucinski. "Lo que realmente nos hace admirar a Pulaski es su feroz compromiso con la libertad y la independencia", afirmó la juez Pucinski. "Pulaski no tuvo que emprender la lucha por la independencia en Estados Unidos. Era un soldado y sabía pelear. Tenemos la bendición de que haya elegido usar esas habilidades para asegurarnos la libertad y la independencia que tenemos hoy", agregó la juez Pucinski. Además, "honramos a Pulaski hoy con una ceremonia especial. Pero honrémoslo todos los días con nuestro propio compromiso de tomar la decisión de ser activos por nuestros ideales, defender los derechos de todas las personas y nunca, jamás, dejar que nadie nos margine", dijo la juez Pucinski.
Al final de sus comentarios, la jueza Pucinski tuvo la amabilidad de responder cualquier pregunta.
"¿Cuál te gustaría que fuera tu legado?" preguntó Natalie Díaz, una estudiante de la escuela primaria Lincoln.
La juez Pucinski sonrió y agradeció a Díaz por preguntar.
"Me gustaría que mi legado sea algo que les enseñe a mis hijos y les enseñe a mis nietos: tener una buena brújula moral. Entender lo que está bien y lo que está mal. Deja que lo correcto te guíe. Incluso si es difícil. A veces se necesita mucho tiempo para corregir un error. A veces se necesita energía para corregir un error. A veces parece que no se puede hacer", dijo la juez Pucinski.
Además, "sea respetuoso, esté bien educado, bien preparado y tal como cualquier abogado le diría y ciertamente cualquier juez conoce ambos lados de los problemas. Conoce al otro lado tan bien como conoces el tuyo porque el otro lado está luchando por sus creencias y tú tienes que luchar por las tuyas. Y la única forma en que puede hacer eso es entender de dónde viene el otro lado porque si lo hace, puede encontrar algún espacio para el compromiso. Es posible que pueda descubrir que no está en desacuerdo con todo, solo está en desacuerdo con algunas cosas. Y que se puedan poner de acuerdo en las demás cosas y eso hace avanzar el proceso", afirmó la juez Pucinski.
"Así que tenga una buena brújula moral, decida por sí mismo lo que está bien y lo que está mal y siempre defienda lo que está bien", dijo el juez Pucinski.
La juez Pucinski dio un gran consejo a los estudiantes, les dijo: "estudien mucho, aprendan cosas, lo que sea, aprendan cosas, aprendan cosas todos los días. Aprendo algo todos los días". "Aprende algo de cada experiencia que tengas", dijo.
Además, dijo la juez Pucinski, "sea un votante informado. Preste atención a lo que sucede en su comunidad. Amplíe sus horizontes".
Una vez que la jueza Puncinski respondió algunas preguntas más, recibió un gran aplauso de los presentes. Grazzini pidió que le diera al juez Pucinksi "un gran aplauso de Cicero".
Justo antes de que la jueza Pucinski tuviera que regresar al trabajo, posó para fotografías con funcionarios municipales y estudiantes.
Los estudiantes del Distrito 99 tuvieron una presentación especial para todos.
Los estudiantes de 5º y 6º grado de la primaria Lincoln de la clase de Sociedad Nacional de Honores de la Escuela Primaria de la Sra. Koser subieron al podio uno por uno. Cada estudiante compartió hechos significativos sobre Casimir Pulaski.
"Casimir Pulaski fue un soldado polaco que luchó por los EE.UU. durante la guerra revolucionaria", dijo Díaz.
"A menudo se le conoce como el Fundador del Calvario Americano porque era un buen jinete y estratega", dijo Minda Huynh.
"Pulaski nació en Varsovia, Polonia, el 6 de marzo de 1745", dijo Alex Delgado.
"Pulaski llegó a Estados Unidos en 1777 porque Ben Franklin le había dicho a George Washington lo maravilloso que era como jinete y estratega", dijo Kathy Suárez.
"Se convirtió en General del Ejército Continental y creó el Calvario Americano", dijo Gaby De La Torre.
"Murió en la batalla de Savannah mientras dirigía la lucha contra los británicos. Murió el 11 de octubre de 1779", dijo Chris Bedolla.
"Hoy, el Día de Casimir Pulaski se celebra principalmente en áreas con una gran población polaca, incluido Chicago", dijo Luke Bencosme.
"Illinois creó una ley el 13 de septiembre de 1977 para celebrar el cumpleaños de Casimir Pulaski y realizó la primera celebración oficial del Día de Pulaski en 1978", dijo Matthew Martinez-Flores.
Además de esa presentación de los estudiantes del Distrito 99, otra estudiante, una estudiante de la preparatoria Morton East, estaba lista para compartir su discurso con todos.
"El Día de Pulaski es importante porque permite que las personas reflexionen sobre los sacrificios y las contribuciones de Pulaski y otros polacos estadounidenses que han hecho contribuciones importantes a la sociedad estadounidense", dijo Itzel Camargo. Agregó que "hoy en día hay más de un millón de polacos decentes que viven en Illinois, lo que la convierte en una de las poblaciones polacas más grandes del mundo fuera de la propia Polonia". Camargo terminó su discurso diciendo que "también es una oportunidad para educar a otros sobre el importante papel que han jugado los inmigrantes en la construcción de los Estados Unidos y para promover una mayor comprensión de las contribuciones de los inmigrantes a la sociedad estadounidense".
Después de tan buenos comentarios del Juez Pucinski, seguido por la presentación tan asombrosa reunida por los estudiantes de la Escuela Primaria Lincoln y luego el discurso de Camargo, todos estaban listos para almorzar.
Se sirvió el almuerzo y todos se sentaron a disfrutar de su comida.
***
Hechos graciosos:
El Día de Pulaski se celebra el primer lunes de marzo.
Este año, el primer lunes resultó ser el 6 de marzo, el cumpleaños de Pulaski.
La calle Pulaski, que lleva el nombre de Casimir Pulaski, en Chicago, se encuentra aproximadamente a una milla de la avenida Cicero.
Las escuelas en el Municipio de Cicero están cerradas el día de Pulaski
Hay siete condados en los Estados Unidos que llevan el nombre de Pulaski
Uno de esos siete condados está justo aquí en Illinois: el condado de Pulaski, Illinois
También hay un pueblo en Illinois que lleva el nombre de Pulaski
Pueblo de Pulaski en el condado de Pulaski, Illinois