Cicero celebrates Veterans Day featuring two Veteran speakers
The Town of Cicero celebrates Veterans' Day just like it does every year. Veterans', first responders and Cicero residents were invited to celebrate the tradition of honoring veterans' on Wednesday, November 15 at 11am at the Cicero Community Center. (Click here to watch the video of the event.)
Town Spokesperson and Communications Director Ray Hanania opened up the grand event asking everyone to please stand for a prayer.
"We are grateful for all the blessings that we have and everybody that's here. We look forward to continuing to do good things in our community," said Director Hanania.
Hanania then introduced the MC of the event Anthony Grazzini.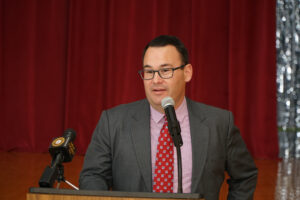 "These convocations that we have monthly in our Town of Cicero are a great part of our culture, heritage and they're a way that we keep our history and our community alive," said Grazzini.
Guest speaker US Navy Veteran State Senator Mike Porfirio took the podium.
"I think the to truly honor veterans we have to make sure that we're investing in real policies, real legislation to make sure they get top quality care. That we're hiring more veterans, that we're supporting veteran owned businesses, that we're giving veterans an opportunity again to get an education and training that they deserve through their service and sacrifice," said Senator Porfirio.
"We owe nothing more to them than to give them the American dream they fought and served for".
Senator Porfirio motivated guests to talk and ask veterans to share their story with them. Mentioning their stories are part of history.
The second guest speaker was Cicero Police Department Operations Sergeant Victor Sandoval Jr. Sandoval is a US Army Veteran and has been with the Cicero Police Department for more than 25 years.
"The military service always intrigued me. I figured, that's my ticket to fund my education, realize my dreams of one day being the police," said Sergeant Sandoval.
"I had the privilege of serving 20 years in the United States Armed Forces".
Town Historian John Kociolko has spoken at every one of the Towns Veterans' Day event since the 1970s except during the shut down due to the pandemic.
"When I was growing up it was known as Armistice Day. It was originally the date, November the 11th. The 11th day of the 11th month at 11th hour at 11:00am local time that the guns fell silent on the Western Front in what was then called the Great War that we know as the First World War, World War I," said Historian Kociolko.
"Lest we forget. Let us now in honoring all of our veterans".
Kociolko concluded the event by saying, "may God continue to bless this greatest of all nations, the United States of America".
New Cicero TV Veterans' Day Ceremony: New Cicero TV – Veterans' Day
El municipio de Cicero celebra el Día de los Veteranos tal como lo hace cada año.
Veteranos, socorristas y residentes de Cicero fueron invitados a celebrar la tradición de honrar a los veteranos el miércoles 15 de noviembre a las 11 am en el Centro Comunitario de Cicero.
El portavoz del municipio y director de Comunicaciones, Ray Hanania, inauguró el gran evento pidiendo a todos que se pusieran de pie para una oración.
"Estamos agradecidos por todas las bendiciones que tenemos y por todos los que están aquí. Esperamos seguir haciendo cosas buenas en nuestra comunidad", dijo el director Hanania.
Hanania luego presentó al presentador del evento, Anthony Grazzini.
"Estas convocatorias que tenemos mensualmente en nuestro municipio de Cicero son una gran parte de nuestra cultura, patrimonio y son una forma de mantener viva nuestra historia y nuestra comunidad", dijo Grazzini.
El orador invitado, el senador estatal Mike Porfirio, veterano de la Marina de los EE. UU., tomó el podio.
"Creo que para honrar verdaderamente a los veteranos, debemos asegurarnos de invertir en políticas reales, legislación real para garantizar que reciban atención de alta calidad. Que estemos contratando más veteranos, que estemos apoyando a los negocios propiedad de veteranos, que estemos brindando a los veteranos la oportunidad de obtener una educación y capacitación que se merecen por su servicio y sacrificio", dijo el senador Porfirio.
"No les debemos nada más que darles el sueño americano por el que lucharon y sirvieron".
El senador Porfirio motivó a los invitados a hablar y pedir a los veteranos que compartieran su historia con ellos. Mencionó que sus historias son parte de la historia.
El segundo orador invitado fue el sargento de Operaciones del Departamento de Policía de Cicero, Víctor Sandoval Jr. Sandoval es veterano del Ejército de los EE. UU. y ha estado en el Departamento de Policía de Cicero durante más de 25 años.
"El servicio militar siempre me intrigó. Pensé, ese es mi boleto para financiar mi educación, realizar mis sueños de ser policía algún día", dijo el sargento Sandoval.
"Tuve el privilegio de servir 20 años en las Fuerzas Armadas de Estados Unidos".
El historiador del municipio, John Kociolko, ha hablado en cada uno de los eventos del Día de los Veteranos del municipio desde la década de 1970, excepto durante el cierre debido a la pandemia.
"Cuando yo era joven, se conocía como el Día del Armisticio. Originalmente fue la fecha, el 11 de noviembre. El día 11 del mes 11 a la hora 11:00 a.m., hora local, cuando las armas callaron en el Frente Occidental en lo que entonces se llamaba la Gran Guerra, que conocemos como la Primera Guerra Mundial", dijo el historiador Kociolko.
"Para que no olvidemos. Honremos ahora a todos nuestros veteranos".
Kociolko concluyó el evento diciendo: "que Dios continúe bendiciendo a esta grandiosa de todas las naciones, los Estados Unidos de América".
Ceremonia del Día de los Veteranos en New Cicero TV: New Cicero TV – Día de los Veteranos