9-1-1 Norcomm Telecommunicator position in Cicero available
Cicero, IL, USA

 

Req #127,

Friday, September 11, 2020
NORCOMM 9-1-1 Dispatch, a consolidated, civilian staffed 9-1-1 communications center within the State of Illinois is currently seeking applicants that have the desire to work in an exciting, challenging and rewarding career field.
Summary
Reporting to the (Operations Manager, Deputy Director, and Director), responds to requests for emergency and non-emergency police, fire and medical services for the Town of Cicero and the Village of Stickney. Incumbents must develop a rapid and accurate sense of call interpretation and decision-making/problem solving skills during stressful situations, process multiple calls simultaneously, establishing the priority status of the call and initiate a sequence of time sensitive actions. Work is performed using state of the art technology and within strict operational guidelines. All voice and data entry work is continually recorded and is subject to live monitoring for later review and critique and may include public disclosure of such work.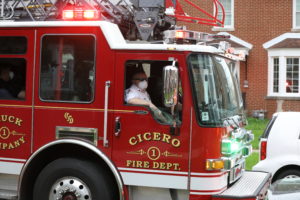 Process
The Applicant must take each of the skills tests and pass them in order before moving on to the next phase:
Criticall Test score at 80% or higher
Select Advantage Test pass with a 50 rating or higher
First Interview
Second Interview
Background Check (including fingerprints and drug screening)
A criminal background check through law enforcement agencies, including a fingerprint search, will be conducted on all successful candidates prior to being appointed to the position.
Those offered a position will be sent for a post offer/pre-employment drug test.
Essential Functions
Answers emergency and non-emergency calls for service and simultaneously enters this information into the computer using a Computer Aided Dispatch (CAD) System

Calms, negotiates, advises and provides instructions to callers to obtain accurate and essential information necessary to establish priority and initiate a timely response to emergency calls

Dispatch police, fire, and medic units as appropriate via radio 

Dispatch police, fire, and medic units as appropriate via radio transmissions; anticipate problems and respond to units as necessary

Continually updates information as it is received, enters into CAD and updates units as to new information or instructions including follow up and updated status of calls

Process more than one call at a time

Assist co-workers as necessary when available 

Attend shift meetings and /or debriefing before or after work as directed

May represent the Center while participating in local, regional or state functions related to public safety and education

Must be reliable and dependable, reporting for work on a consistent and punctual basis

Performs additional duties as assigned

Interpersonal Contacts
Contacts are made both inside and outside the organization. Internal contacts frequently include telecommunications staff and less frequently, administrative staff. External contacts include Norcomm customers and citizens. The successful candidate may serve as liaison between the Center and one or more agencies to provide superior customer service to the Center's customers. Interactions tend to focus on information exchange and receiving and giving directions. Contacts may include sensitive and/or confidential information. The majority of external interactions are via the telephone or electronically via e-mail or LEADS/NCIC.
Required Knowledge/Skills/Abilities
Knowledge of client service areas including streets and landmarks

Knowledge of map reading techniques, including directions of travel and freeway access

Ability to condense and organize large amounts of information into readable, sensibly typed remarks in a timely manner and recall numerous acronyms and type codes essential to efficient and accurate call processing 

Ability to make timely and appropriate decisions under emergent circumstances based on technical standards, criteria and policies 

Ability to remember numerous details and quickly re-call essential information

Ability to consistently think clearly and respond quickly in a wide variety of emergency situations

Ability to speak English clearly, possess an excellent vocabulary and verbally communicate rapidly

Ability to deal effectively with people in a multi-cultural society under extremely stressful situations

Ability to quickly perform multiple time-sensitive tasks in response to visual and sound stimuli with a high degree of accuracy

Ability to type 40 words per minute while conversing with callers and/or field personnel via two-way radio systems.

Maintain accurate records as required

Ability to articulate in a clear, concise manner, disseminating complete and accurate information in a logical and timely basis both orally and in writing

Ability to work under stress; be a team player and establish good working relationships; maintain self-control under stressful circumstances.

Ability to discern several conversations simultaneously, disseminate appropriate information, prioritize actions and respond in an effective manner

Ability to be available for shift work encompassing a 24 hour day, seven-day week; inclusive of days, evenings, nights, weekends, shift shortages, call offs and holidays. Ability to work twelve (12) hours minimum.

Computer skills sufficient to discern and solve routine problems

Required Education/Experience
High school diploma or equivalent. One year experience or greater in the public safety field or successful completion of a vocational dispatch course is desirable
Licenses and Other Requirements
If utilizing a personal vehicle in the performance of duties, must possess a valid Illinois Driver's License and the appropriate amount of automobile insurance.

Incumbent may be required to respond to the needs of the Communication Center regardless of external weather or other emergency factors and outside of regular work hours.

Obtain and maintain licensure from the Illinois Department of Professional and Financial Regulation Permanent Employee registration Card (PERC).

Obtain and maintain a certification from the National Academy of Emergency Medical Dispatch for EMD. (NAEMD)   

Obtain and maintain a certification from Illinois State Police to operate the Law Enforcement Agency Data System (LEADS) and maintain the certification as required. 

Obtain and maintain a certification from APCO in Public Safety Telecommunicator I (PST1) and Advanced Fire Communications
Environment
Work is typically performed in the communications room, with varying levels of light, in a confined environment with moderate to loud noise levels

Disciplined environment with close supervision; must carry out lawful orders regardless of personal agreement

Must be available to attend monthly Emergency Medical Dispatch (EMD) meetings

Must be available to attend monthly Team Meetings

May be subjected to excited, abusive, foul-mouthed, incoherent, intoxicated, impaired or hysterical callers

Must be available to work shift work encompassing 24 x 7 schedules including evenings, nights, weekends, shift shortages, call offs and holidays.

Must remain at the Center for the full scheduled shift. Uninterrupted lunch and breaks are not guaranteed. Lunch and breaks must be scheduled with the on-duty Supervisor

Due to the nature of public safety work, overtime may be required

May be subject to "call back" on short notice and for extended periods and must be available by phone/email at own expense
Physical Demands
Light lifting, carrying and pushing objects weighing up to 25 pounds

Ability to reach, bend and stretch as required from a sitting and standing position to perform tasks such as manipulation of a mouse, keyboard, monitor, or other related equipment. 

Dexterity of hands and fingers to operate standard office equipment, including a computer key board

Sitting for extended periods of time

Ability to read and discern visual images in a variety of media, to include small liquid crystal displays offering very little brightness/darkness contrast, standard monochrome CRT/LED display screens, printed matter that has been reduced to less than normal size type, multi-colored indicated lights which have differing flash rates and color which indicates the status of electronic functions

Ability to respond to multiple visual and sound stimuli with a high degree of accuracy in a timely manner

Adequate hearing and visual acuity to successfully perform the essential job requirements

Ability to speak and comprehend English coherently to exchange information in person and on the telephone

Must be free from physical impairments that with or without accommodation would interrupt continuous performance of a shift lasting from 8 to 16 hours. Longer hours may be necessary as circumstances dictate.
NORCOMM Public Safety Communications – Superior Air-Ground Ambulance Service, Inc. is committed to attracting and retaining the best talent. We are an Affirmative Action/Equal Opportunity Employer.  Qualified applicants of all backgrounds are encouraged to apply.  M/F/V/D